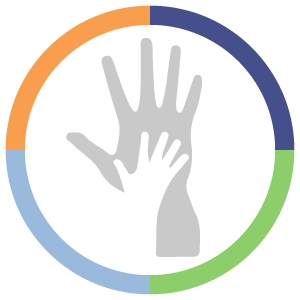 Thank you for your interest in volunteering with Catholic Charities Inc., Diocese of Wichita. Volunteers are vital to the success of Catholic Charities and contribute greatly to our ability to help clients in need. Volunteers make a difference with hands that serve and hearts that care. We couldn't do it without our volunteers!
We look forward to meeting you soon!
Children and Kids
We welcome children, age 7 to 17 years of age. If the child is between 7 and 15 years, a parent or guardian must accompany the child at all times. If you are a parent-guardian/child team an application will need to be completed for both the parent-guardian and the child. For teens 16 and 17 years of age, the parent-guardian MUST sign the application for the teen but does not have to accompany the teen to the program.
If you choose to volunteer with Catholic Charities, please fill the appropriate application below.
#1: Volunteer Application
Please complete the application form below as the first step to volunteer with Catholic Charities. For questions, please contact the Volunteer Coordinator at 316-264-8344, Ext. 1261 or at volunteer@catholiccharitieswichita.org.
#2: Placement in a Ministry
After we receive your application, we'll work with you to find a volunteer position. You can learn more about our different ministries in the "opportunities" tab. Generally, volunteers needing service hours are placed at Our Daily Bread.
#3: Background Checks
All adults will be asked to fill out a Background Check form and a Code of Conduct form. Minors will need a Parental Consent form.
#4: VIRTUS
Most adult volunteers will also be asked to complete VIRTUS training. You can find class times and register here: http://bit.ly/VirtusOnline
Documents for Volunteering
Fill out if you are a group or organization interested in volunteering. Parental Consent form required for all
Application for Volunteering
Contact Us
We would like to hear from you! Call 316-264-8344 or Email us: St. Joseph Pastoral Center
437 North Topeka st.
Wichita. KS 67202-2431
Catholic Charities, Diocese of Wichita is a 501(c)(3). All gifts are tax-deductible.
Wichita Diocese
The Wichita Diocese covers 20,021 square miles and includes 25 counties in the southeast corner of the state. It is home to over 114,000 Catholics in 90 parishes.