75th Birthday of Catholic Charities Wichita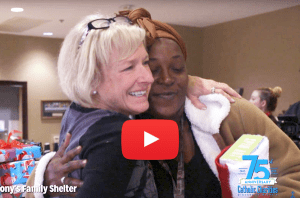 In a given year, Catholic Charities celebrates a lot of birthdays. Every child at St. Anthony Family Shelter and Harbor House who has a birthday while in the shelter receives a party complete with cake, decorations, and gifts. We do this because each individual who comes through our doors is special. Each is made in the image and likeness of God.
Now, it's our time to celebrate. This year marks Catholic Charities' 75th birthday. From its beginning in 1943, the agency has helped stabilize and strengthen hundreds of thousands of parents, children and individuals by providing them assistance and tools for basic living.
Our services have always addressed the unique needs of the time. In the early years, the agency focused primarily on the care of children through St. Joseph's Home, the placement of children for adoption, limited family counseling, and service to families in conjunction with the St. Vincent de Paul Society.
Today, our 13 programs and projects address hunger, homelessness, domestic violence, counseling, immigration and disabled adults, and seniors. Our priorities include strengthening families with hope and enriching them with peace in healthy personal income management, relationships and life-skills based education through case management, counseling and care. Last year, Catholic Charities served over 15,100 individuals. Those who come to us in their time of need have powerful stories to tell.
Timeline
1943
Catholic Charities was established by Bishop C.H. Winklemann and was known as the Catholic Charities Bureau. With primary focus on the care of children at St. Joseph's Home, the placement of children for adoption, limited family counseling and service to families in conjunction with the St. Vincent de Paul Society.
1951
Catholic Charities Bureau's first Board of Directors was formed and officially received its first State Charter as a non-profit corporation.
1954
The name of the agency was changed to Catholic Social Service, Inc.
1975
The Downtown Center for Older Adlts was opened with 18 clients (currently known as Adult Day Services). The program was originally housed at 437 N. Topeka, where home base for Catholic Charities still stands today.
1980
Catholic Charities' Mount St. Mary's Learning Lab was started to help the Indochinese refugee population with English as a Second Language and with the adjustment to the American culture.
1981
The Foster Grandparent Program was adopted, designed to match special needs children with low-income seniors. To date the program was donated hundreds of thousands of hours to the community.
1985
Cana Counseling began providing services to families, couples and children in Wichita Catholic parishes and schools and the surrounding area.
1987
Adult Day Services expanded to better meet the needs of the community to welcome clients with physical disabilities and those living with Alzheimer's.
1988
St. Anthony Family Shelter, a program for homeless families, opened in response to community need. The family was beginning to replace the homeless stereotype of an older, single man.
1989
Harvest House was opened and designed to keep retired members of the Diocese of Wichita parishes active in the community and the church. Today, the program is housed underneath the Diocese of Wichita and has more than 1700 members with 28 sites throughout the Diocese.
1991
Clients with mental and developmental disabilities began coming to Adult Day Services. Sister Therese Wette began St. Dismas Missioners prison ministry to provide prisoners with mass and spiritual support through priests and volunteers. Now known as the St. Dismas Volunteers, the program is now ran through the Diocese of Wichita.
1992
Harbor House Domestic Violence Shelter, our second shelter, opened its doors to serve women and children who are victims of domestic violence.
1996
The agency made one final name change from Catholic Social Service, Inc. to Catholic Charities, Inc.
The special needs adoption process in Kansas was privatized, resulting in Catholic Charities taking on another role with placing children with special needs in permanent adoptive homes. From 1996-1999, the program facilitated the placement of nearly 50 children.
1999
Hispanic Social Services opened. Working with the Diocese of Wichita, Catholic Charities reached out further into the Hispanic community to help connect individuals and families with resources already available to them. In 2006, Hispanic Social Services combined with what is now called Immigration Services.
2003
Shelter the Heart, a capital campaign to build two new shelter buildings for St. Anthony Family Shelter and Harbor House began.
2005
April marked the ground breaking of the new Harbor House building and was completed in December. By January 2006, women and children had moved to the new facility designed to meet their needs. During the first year the shelter opened, the number of children helped in shelter increased 80 percent.
2006
Catholic Charities Wichita was chosen to participate in a four-year Supporting Healthy Marriage demonstration program. By 2008, more than 108 families (married couples with children) had been reached.
2007
St. Anthony Family Shelter was complete and the families moved into the 13-room facility. 11 rooms for families of five or less and two rooms for families of up to seven people. In addition, families units offered connecting doors, making it possible to serve families of more than seven members.
2008
In collaboration with Wichita Area Sexual Assault Center, The Wichita Public Schools District and Wichita State University Department of Sociology and Center for Community Support and Research – the project aimed to reach 7,750 local teens through community wide activities to educate youth about the importance of forming healthy relationships and ending intimate partner violence.
2010
At the end of the five-year Marriage For Keeps Project, more than 3,000 couples had received support and services from all four Kansas Catholic Charities affiliates. The collaborative effort provided workshops to low income, married couples with atleast one child under 15 years old or were expecting a child.
2013
More than 23,000 hours were donated by passionate volunteers in helping the agency to better serve those in need.
2015
The Mount at Catholic Charities – Extended Stay Shelter and Family Enrichment Complex opened its doors with 14 bedrooms to provide transitional housing for those coming out of St. Anthony Family Shelter and Harbor House.
#PurpleThursdayICT – a domestic violence awareness campaign for the month of October came to fruition. With the assistance of local businesses, friends and agencies the awareness campaign took off!
2016
Three new shelter vans were purchased with the funds from Cruise Night for Harbor House. They provide assistance driving families too and from work and school.
2017
Our Daily Bread Food Pantry received a makeover! With new flooring provided by Star Lumber, the pantry was able to serve 11,000 families with necessary groceries. The pantry utilizes a client-choice model allowing all that visit to pick out what would best provide for their family.
2018
2018 marks the 75th year of Catholic Charities, Inc – Diocese of Wichita in the local community. Help celebrate our birthday by volunteering or donating today. Learn more about what we do. Thank you for your support.
Articles
Videos
Your content goes here. Edit or remove this text inline or in the module Content settings. You can also style every aspect of this content in the module Design settings and even apply custom CSS to this text in the module Advanced settings.
Contact Us
We would like to hear from you! Call 316-264-8344 or Email us:
Counseling And Immigration
Disabled Adults And Seniors St. Joseph Pastoral Center
437 North Topeka st.
Wichita. KS 67202-2431
Catholic Charities, Diocese of Wichita is a 501(c)(3). All gifts are tax-deductible.
Wichita Diocese
The Wichita Diocese covers 20,021 square miles and includes 25 counties in the southeast corner of the state. It is home to over 114,000 Catholics in 90 parishes.