Supportive Services for Veteran Families at Catholic Charities offers dignity
By Joe Seitz, Program Coordinator
Supportive Services for Veteran Families at Catholic Charities
In a small eastern Kansas town lived a man our program had the honor and privilege of serving. "Big Mike" was a towering man standing 6 foot, 5 inches, and had a loud and attention-grabbing voice. He was an Army veteran drafted in 1970. He served proudly and received several medals during his tour before leaving the service with an honorable discharge.
We met Big Mike in 2021 several years after his distinguished military service. He was then 69 years old and suffering from severe mental illness and addiction issues. He had found himself homeless again in the community he had lived and loved for years. Since Supportive Services for Veteran Families (SSVF) at Catholic Charities specializes in housing homeless veterans, we took Big Mike on as our client to assist him in getting housed.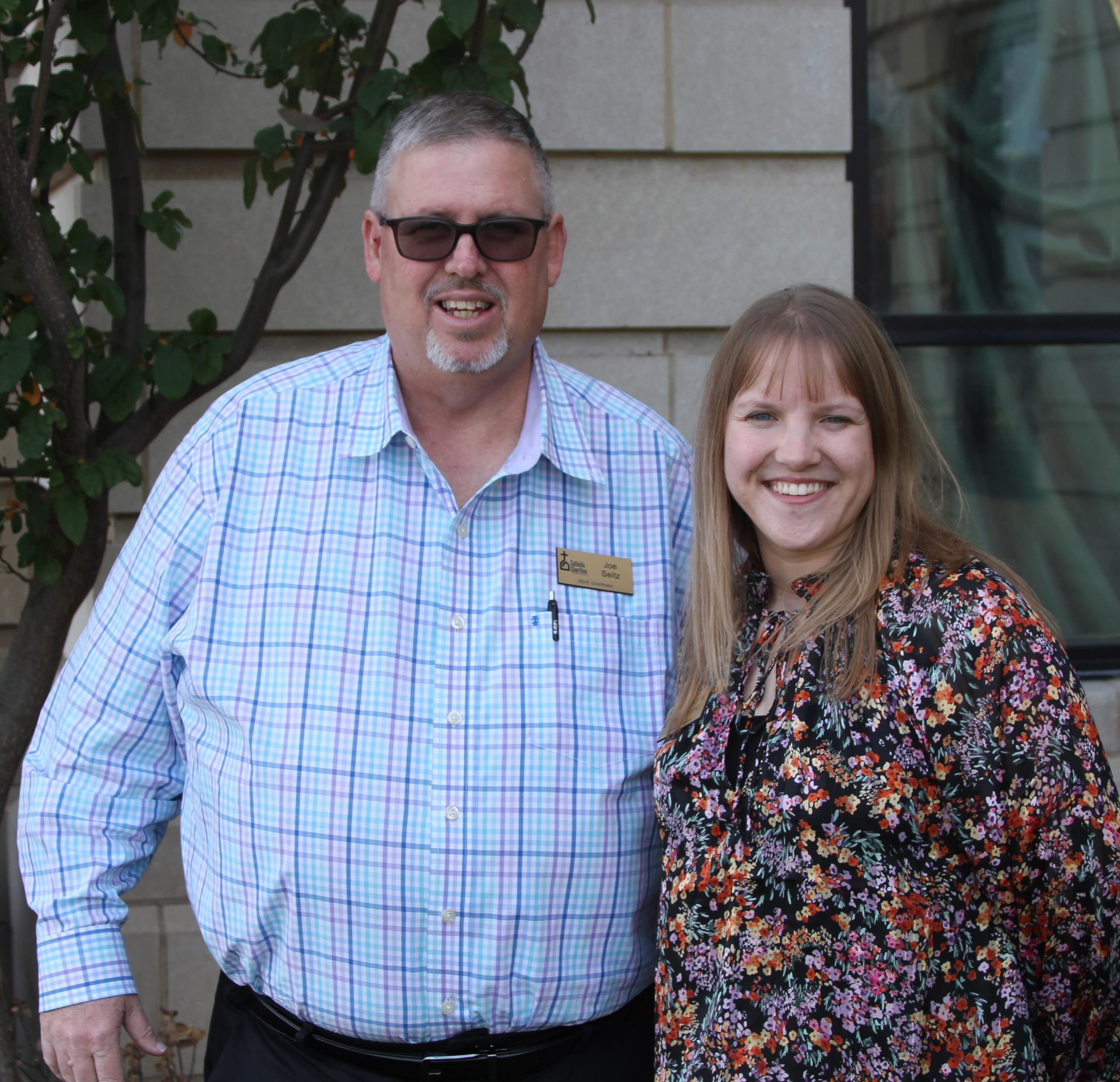 Joe Seitz, Program Coordinator and Lauren Fernz, SSVF Case Manager
From homeless to housed
Big Mike was sleeping by the steps of the local police department when we first met with him and promptly placed him into a local hotel. Over the next few weeks we discovered that Big Mike had, unfortunately, earned himself a reputation in his small eastern Kansas town that was making it difficult to get him into permanent housing.
His SSVF case manager was finally able to secure housing for him in a little town just a couple miles away. This was not an easy sell, as Big Mike really wanted to stay in his town. He finally realized this was a good move for him, and that he would still be close to the town he loved.
Homeless again, ready to overcome barriers
Five weeks into his new lease, Big Mike was served an eviction notice because of his behavior. He had episodes when he was loud, reciting Bible verses or other ramblings that scared people he did not know. Due to complaints, he was once again going to be homeless. Big Mike had a rough road ahead due to the multiple barriers he faced.
So, back into the hotel we placed him and our search for housing began again. Big Mike was now adamant he was not going to leave the safety of his community again. He was never demanding, and always appreciative of any assistance he received, but he was a proud and admittedly stubborn at times. The relationship between Big Mike and his case managers had grown strong, and they worked hard to get him housed. He participated in his housing search as much as he was capable, but it was proving difficult to get any landlords to allow him to rent due to his reputation in the community. He was being rejected at virtually every promising option we would find.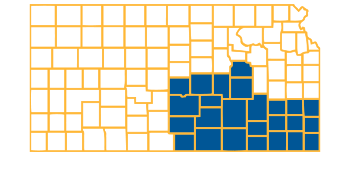 Counties served by Supportive Services for Veteran Families
Search for housing continues
Winter and six months had now passed, and Big Mike was still sheltered in a hotel room in his little town. His case managers were making the three-hour journey from Wichita to eastern Kansas on a regular basis to make sure he had food and anything else he needed to sustain himself while the search for housing continued.
In early May 2022 the decision was made to send his case manager to his town and stay there until we could find someone willing to rent housing to Big Mike. During that week, the case manager met with several landlords and once they recognized Big Mike as the tenant, they would withdraw the offer to rent. While the case manager built relationships for future opportunities, the week dedicated to housing Big Mike came up empty.
Proud to have a place to call home
A couple weeks later, we received a call from one of those landlords. He said a property had come open, and he wanted to offer it to Big Mike. He understood the barriers that Big Mike faced, as he has been a longtime resident of the same community and knew of his reputation around town.
After eight months of being homeless and rejected so many times, Big Mike had an appointment to sign a lease. When the case manager picked him to take him to the lease meeting, Big Mike came out of his hotel room dressed up, even wearing a tie. Big Mike was so happy and proud to be given this opportunity to have his own place. The case manager said he was very respectful and promised the landlord he would be a good tenant and follow all rules.
Move in day for Big Mike
Prior to his move in date of June 1, Big Mike wrote a three-page letter to his case manager and thanked her so much, and even referring to her as his "angel."
Move in day was very exciting for Big Mike, and for us! He was provided all the basic supplies to have a new beginning. He posed for a picture standing on his porch in front of his new house. His huge smile, which we didn't see very often, was beaming.
Hospitalized with a heart condition
The next five weeks did not go as we hoped for Big Mike. In early June he was hospitalized with a heart condition. We knew he would not stay in the hospital; he left the hospital against medical advice on three separate occasions over the next few weeks.
On July 2, 2022, Big Mike called 911 for the final time. He was found deceased in the home he loved so much.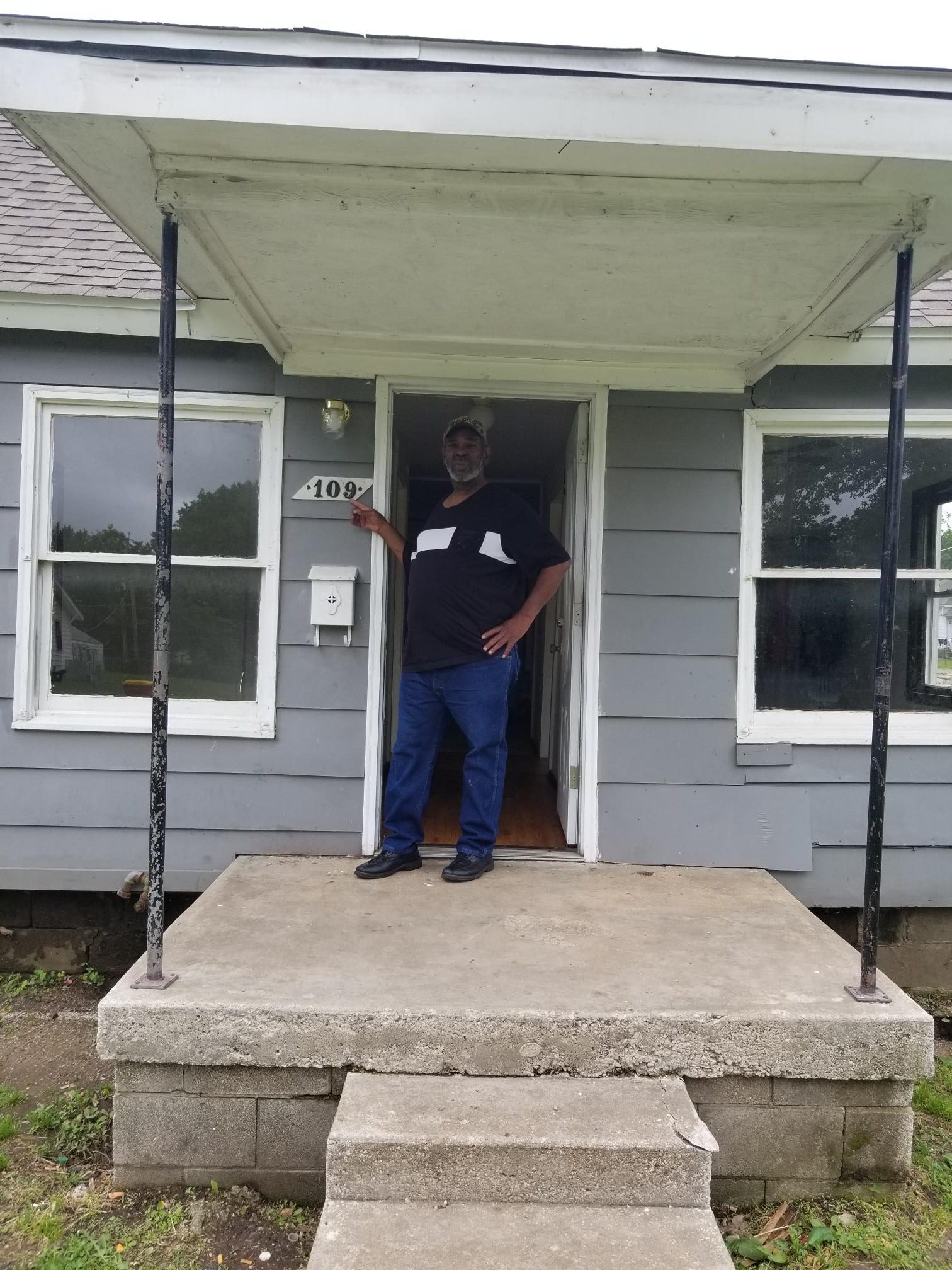 Making an impact on others, while they make an impact on you
During a career of providing service to others, it seems there a people that you come across that just make a bigger impact than you expect. Big Mike was one of those people. He lived the last years of his life being judged, rejected and maligned. The hill he had to climb was something I pray I never have to face. Our SSVF program strives to always provide our veterans with dignity and respect. I believe we did for Big Mike. We are so happy he was able to leave this world in a place he could call his home.
Big Mike's funeral was attended by many friends and family from across the country who loved him, as well as many community members from city government, police, mental health, social services and his current landlord whom had been pulling for Big Mike all those years. He was buried with military honors at Ft. Scott National Cemetery.
Learn more about Supportive Services for Veteran Families
Learn how SSVF provides assistance to low income veterans and their families who are homeless or at imminent risk of homelessness
Contact Us
We would like to hear from you! Call 316-264-8344 or Email us:
Counseling And Immigration
Disabled Adults And Seniors St. Joseph Pastoral Center
437 North Topeka st.
Wichita. KS 67202-2431
Catholic Charities, Diocese of Wichita is a 501(c)(3). All gifts are tax-deductible.
Wichita Diocese
The Wichita Diocese covers 20,021 square miles and includes 25 counties in the southeast corner of the state. It is home to over 114,000 Catholics in 90 parishes.