Serving families is at the heart of St. Anthony Family Shelter, and that focus is now depicted in the ministry's new logo.
Designed by Trina Sanders, Church of the Magdalen, who also recently created logos for Harbor House and SAFE Project, the SAFS logo features bright, primary colors to reflect the children served in shelter. In describing what each element of the logo represents, Sanders shared the following:
"The logo shows a welcoming shelter with a family of varying ages in front of it. The lines of the family are intertwined to show that they will stay together. The front door with the warm light welcomes them. The door of the home is also an 'A' for 'Anthony.' The heart represents the love within the shelter and the family. The green plant behind the family shows growth and life."
The words "Catholic Charities" and the customized cross image from the primary Catholic Charities logo connect St. Anthony to the larger organization.
Serving families in need
Each year, St. Anthony Family Shelter at Catholic Charities serves 475 or more children and their families. It is the only shelter in Wichita that focuses solely on families, requiring clients to have at least one minor child in the family to stay at the shelter. After meeting the family's immediate needs for shelter, food, clothing and supplies, the adults work with their case manager to set financial, employment and housing goals that they work on during their 30-day stay.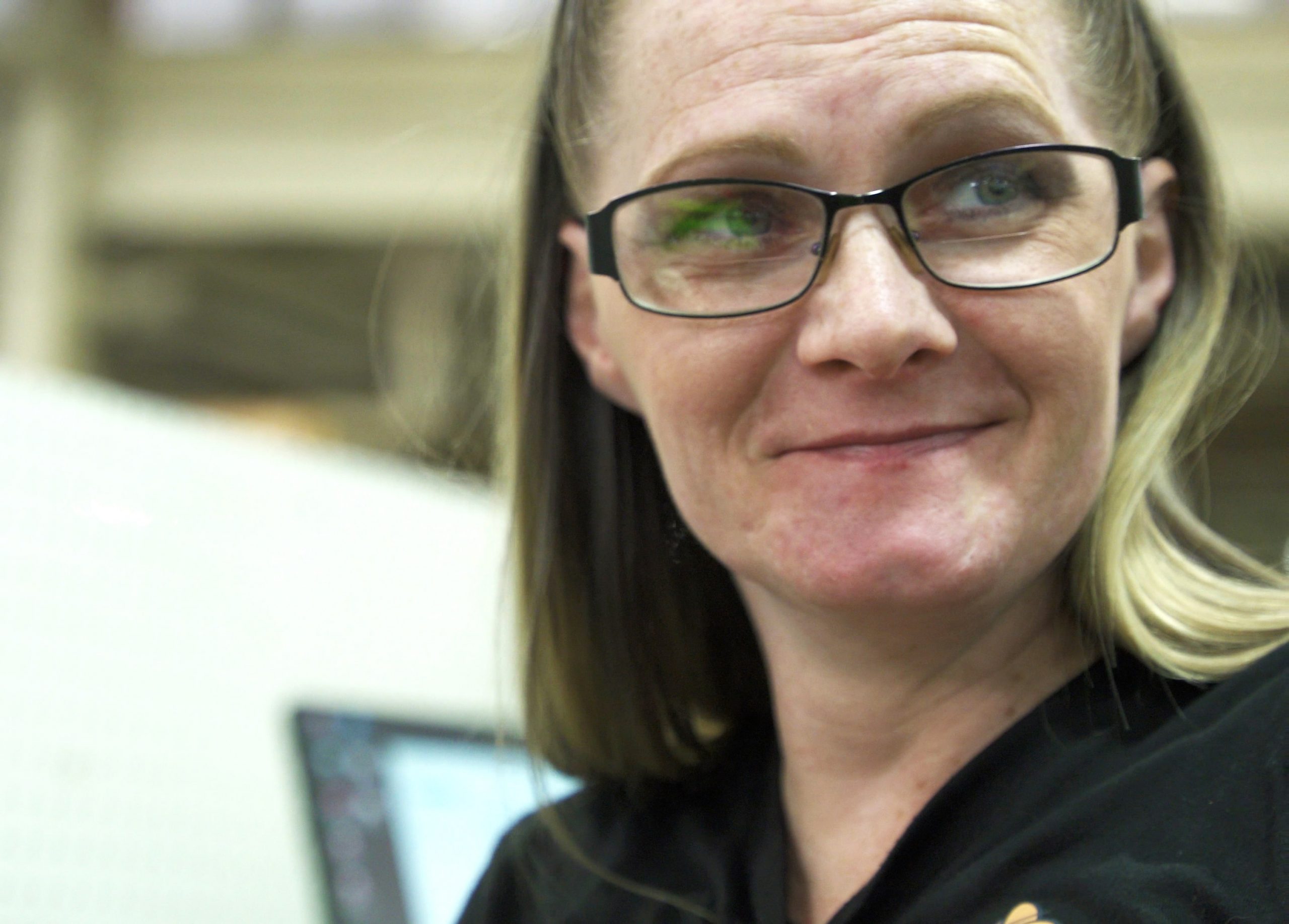 Daphne's Story
When Daphne arrived at St. Anthony with her infant daughter, she found the warm beds, food and shelter that they needed after having been homeless. She worked with her Seeds for Success employment case manager to secure a job at Martin Interconnect, a Seeds for Success employment partner. The St. Anthony team also helped her find suitable housing.
This past March, Daphne celebrated one year of continuous employment with Martin Interconnect, a milestone which has allowed her to maintain housing for her and her daughter.
In reflecting back on her experience with St. Anthony Family Shelter, Daphne said, "I love what I do for a living and, with your help, I'm finally proud of myself for once in my life. I'm happier than I've ever been."
It is these types of life-changing client experiences for which the staff at St. Anthony Family Shelter strive for on a daily basis.
Learn more about St. Anthony Family Shelter
Learn more about how you can help and who we serve at St. Anthony Family Shelter.
Contact Us
We would like to hear from you! Call 316-264-8344 or Email us:
Counseling And Immigration
Disabled Adults And Seniors St. Joseph Pastoral Center
437 North Topeka st.
Wichita. KS 67202-2431
Catholic Charities, Diocese of Wichita is a 501(c)(3). All gifts are tax-deductible.
Wichita Diocese
The Wichita Diocese covers 20,021 square miles and includes 25 counties in the southeast corner of the state. It is home to over 114,000 Catholics in 90 parishes.