Derek Tyler was serving homeless veterans for Catholic Charities when an opportunity to combine his inventory control, warehousing and social services backgrounds became available. He was promoted to program director for Our Daily Bread Food Pantry at the beginning of 2022.
"Helping people is what makes me happy," says Derek, who has spent the past several months getting to know his all-volunteer crew, learning the day-to-day operations of the pantry, and meeting clients.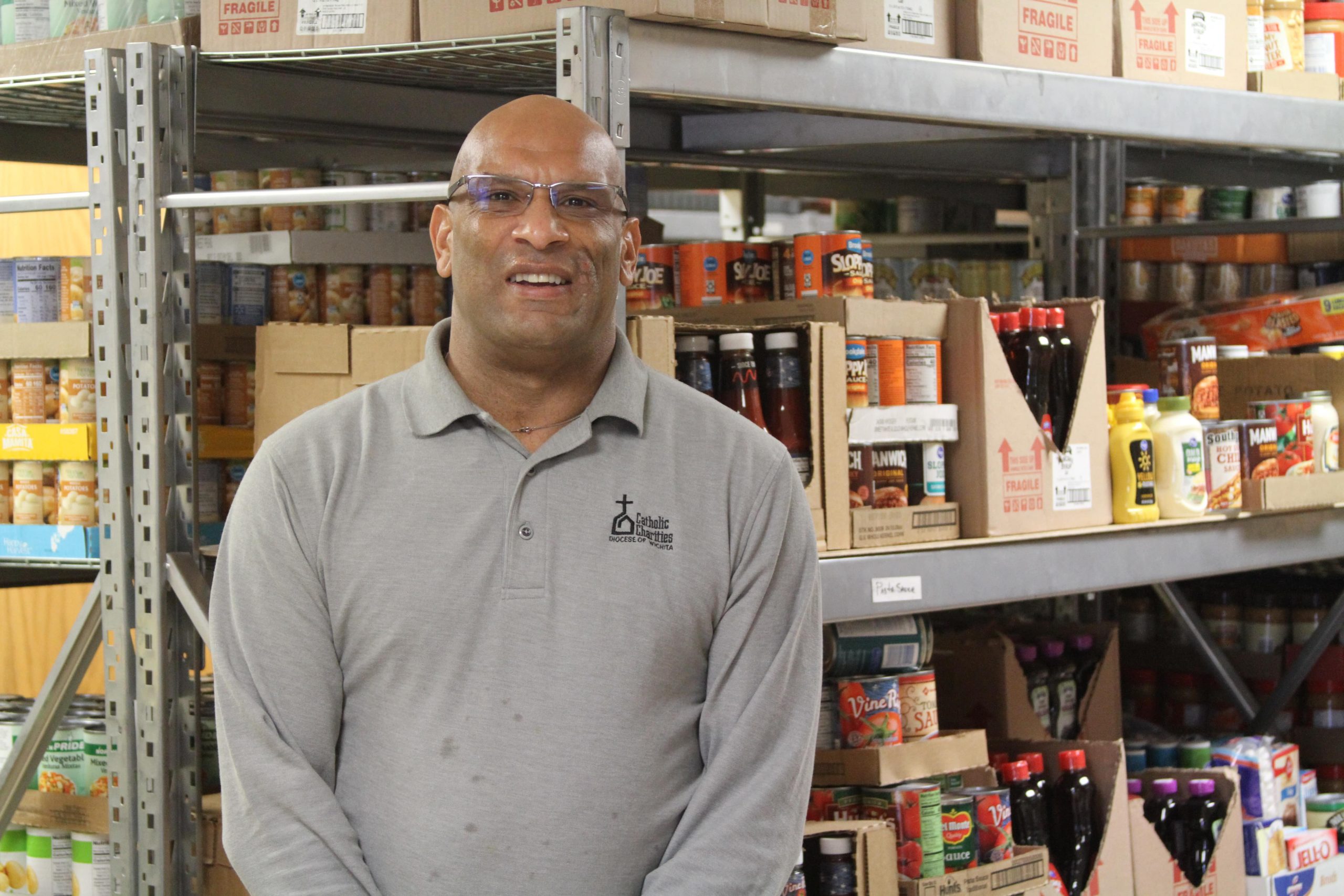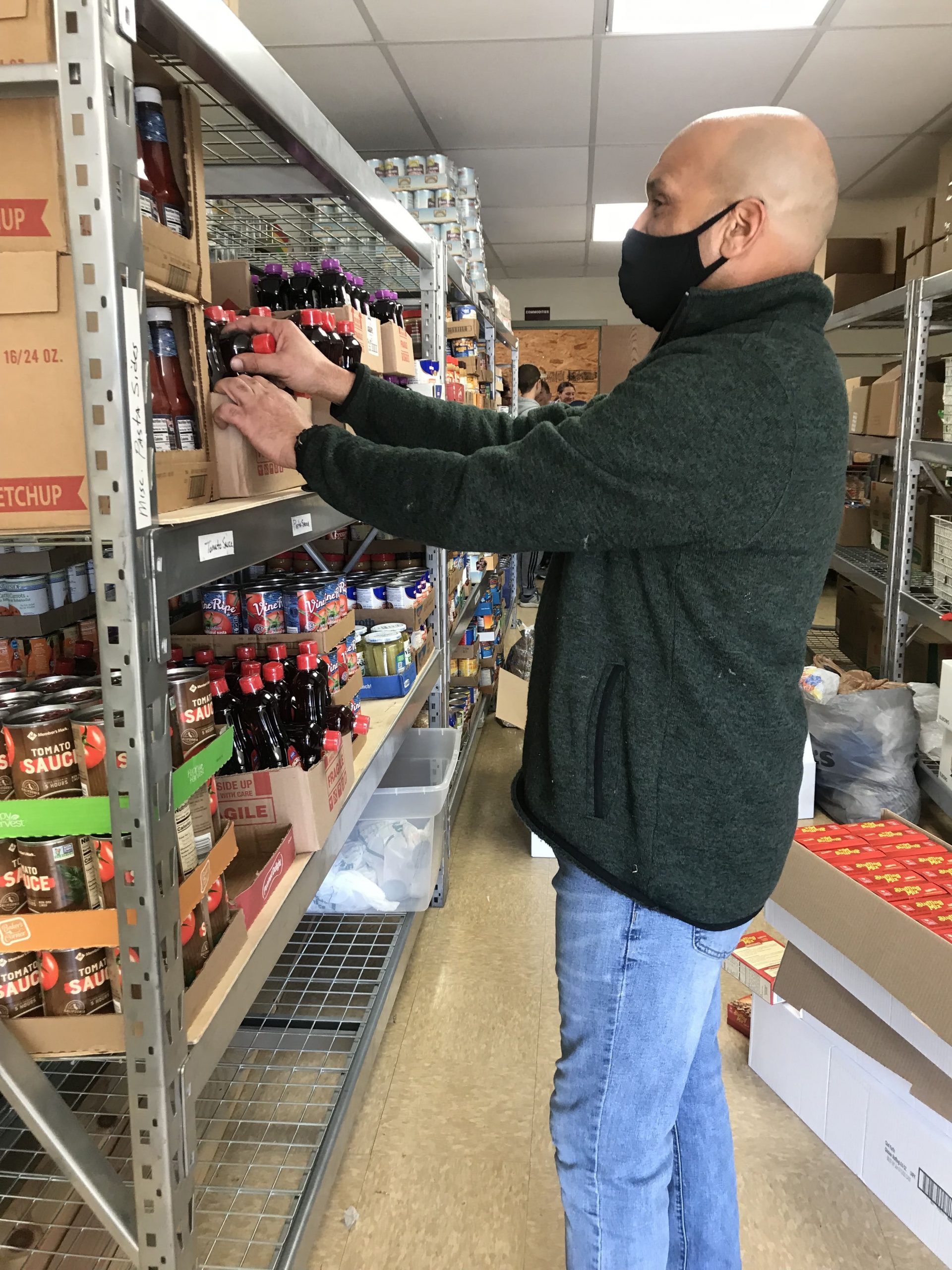 Connection to the clients
Derek says he feels a connection to many of the clients that are served by Catholic Charities because of his own struggles a few years ago. A combination of circumstances led to stay in a Wichita homeless shelter.
He grew up outside of Boston, and still proudly exhibits the fast-paced, fast-talking demeanor often associated with Northeasterners. He first came to Wichita as a U.S. Air Force firefighter stationed at McConnell Air Force Base. He joined the service to take advantage of its educational benefits but realized two years later that his 24-hour shift schedule was not conducive to a college class schedule.
He honorably discharged and embarked on a warehousing and logistics career that took him to back to Massachusetts and then to Nevada. In time, a health condition led him to apply for disability benefits. As those were denied, his marriage ended. He followed his ex-wife and daughters back to Wichita, eventually gaining custody of his two girls.
Difficult times opened a door to new career
He and the girls were homeless for a time, but those difficult times opened a door to a new career. When a person who had helped him at the shelter saw a job opening at COMCARE of Sedgwick County, she knew Derek would be a perfect fit. In 2019, he began his career in social services as a certified peer support specialist and case manager at COMCARE. Two years later, he joined Catholic Charities.
The personal knowledge of homelessness and hunger is why Derek appreciates Our Daily Bread's client choice model and the way that volunteers treat all clients with dignity and respect.
It is about people helping people
"There is a stigma about going to a food pantry which we want to change," Derek says. "Food insecurity has an impact not only on one's physical health, but their mental health, how kids perform in school, and much more.
"When people come to Our Daily Bread, it's not about judging them or charity; it is about people helping people in their time of need," he says.
Our Daily Bread is open to all
Our Daily Bread Food Pantry at Catholic Charities is open to all from 8:30 a.m. to noon Tuesdays, Wednesdays and Thursdays, and from 9 a.m. to noon the fourth Saturday of each month. There are no income requirements to receive food, just a need to feed oneself or one's family.
Contact Us
We would like to hear from you! Call 316-264-8344 or Email us:
Counseling And Immigration
Disabled Adults And Seniors St. Joseph Pastoral Center
437 North Topeka st.
Wichita. KS 67202-2431
Catholic Charities, Diocese of Wichita is a 501(c)(3). All gifts are tax-deductible.
Wichita Diocese
The Wichita Diocese covers 20,021 square miles and includes 25 counties in the southeast corner of the state. It is home to over 114,000 Catholics in 90 parishes.