Catholic Charities endow fund at Community Foundation of Southeast Kansas
As an outward sign of its continued commitment to serving people in southeast Kansas and as an invitation for the community to share in its work, Catholic Charities has established an endowed fund with the Community Foundation of Southeast Kansas, according to Wendy Glick, Catholic Charities executive director.
The Catholic Charities Endowed Fund was established in late October with an initial contribution of $25,000 from the organization. Glick said that the new fund will give individuals, businesses and foundations a new way to share in the work that Catholic Charities does in the areas of homeless prevention, household stabilization and domestic violence in southeast Kansas.
"Catholic Charities has been investing in southeast Kansas since 1989 thanks to financial contributions from many generous donors," Glick said. "Until now, all contributions were used almost immediately to support our work. With the establishment of the endowed fund, prospective donors now have the option to invest in our work for the long-term, creating a consistent revenue stream for future needs."
Glick said that charitable contributions help cover operational costs not covered by grant funding while also providing additional client assistance dollars that aid in homeless prevention through one-time assistance with rent or utilities.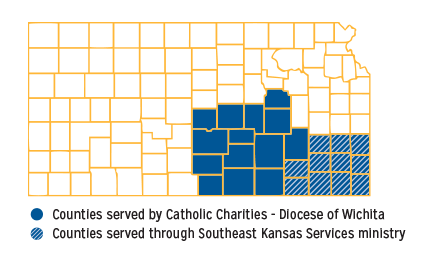 With offices in downtown Pittsburg, Catholic Charities serves an 11-county area of southeast Kansas. Two ministries – Southeast Kansas Services and Supportive Services for Veteran Families – focus on homeless prevention and household stabilization. A third ministry based in Pittsburg is SAFE Project, a collaboration with the Kansas Department for Children and Families that helps survivors of domestic violence and sexual assault overcome barriers to employment, safe housing and economic self-sufficiency.
In addition, residents of Southeast Kansas can access programs that Catholic Charities provides in Wichita via telecommunications, such as Cana Counseling and Immigration Services.
"We are excited to welcome Catholic Charities to our family of funds," said Devin Gorman, Community Foundation of Southeast Kansas executive director. "The vital services and resources Catholic Charities provides to Southeast Kansas communities cannot be understated, and we are proud to assist them in ensuring long-term support for their mission."
Donate today to support the endowed fund
You can help immediately grow the Catholic Charities Endowed Fund making a donation today. To learn more, visit https://www.southeastkansas.org/.
Contact Us
We would like to hear from you! Call 316-264-8344 or Email us:
Counseling And Immigration
Disabled Adults And Seniors St. Joseph Pastoral Center
437 North Topeka st.
Wichita. KS 67202-2431
Catholic Charities, Diocese of Wichita is a 501(c)(3). All gifts are tax-deductible.
Wichita Diocese
The Wichita Diocese covers 20,021 square miles and includes 25 counties in the southeast corner of the state. It is home to over 114,000 Catholics in 90 parishes.