Keeping Foster Grandparents involved
As schools sent students home for virtual learning or limited the number of in-person visitors allowed inside their buildings for much of the past year, the Foster Grandparent Program offered through Catholic Charities found other ways to keep about 65 grandparents involved.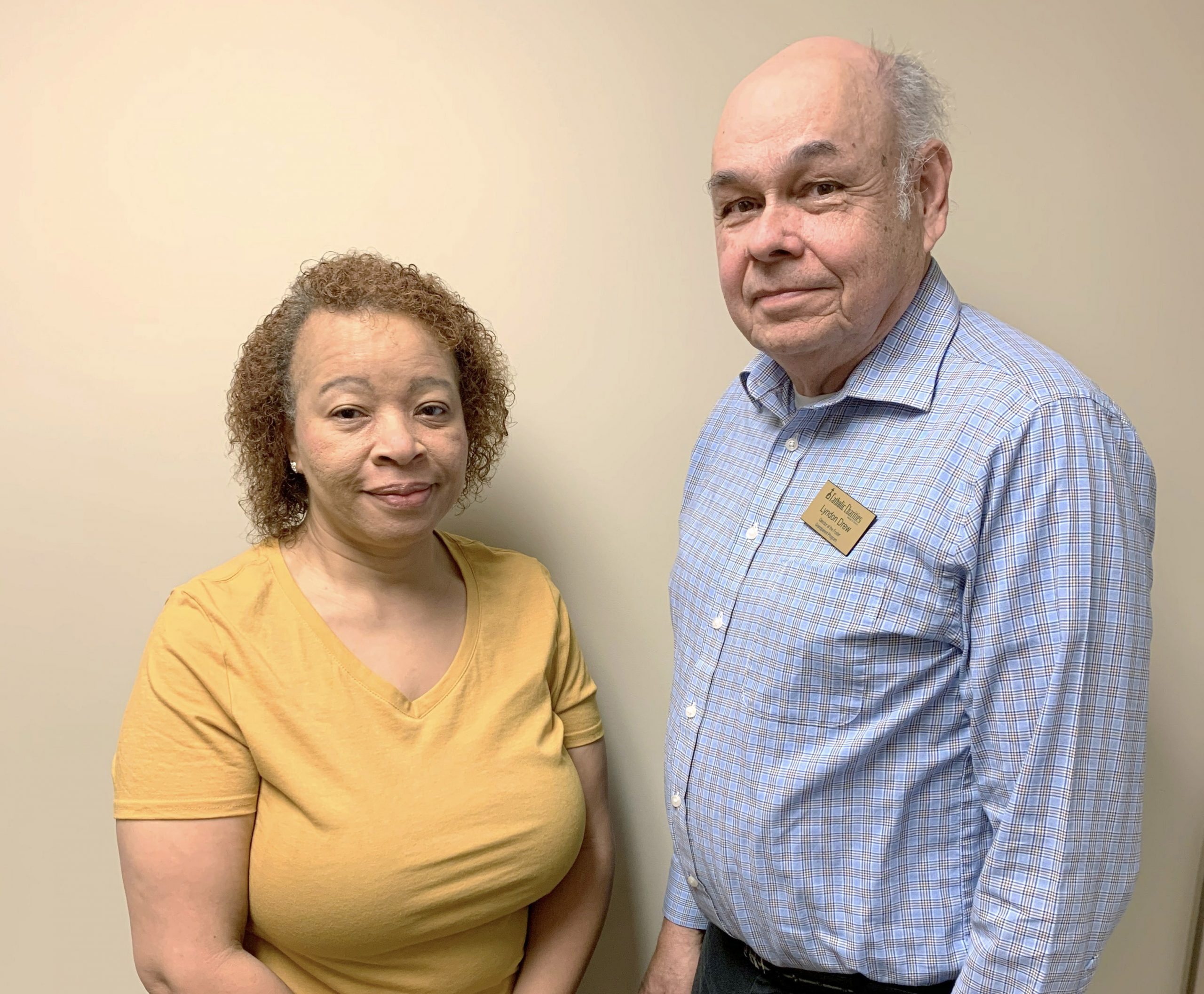 Debi Hutcheson and Lyndon Drew of the Foster Grandparent Program
"It was important to maintain the interest and commitment of the grandparents because children are going to need us more than ever when we return (to in-person learning)," said Lyndon Drew, program director. "We helped the grandparents weather the pandemic. Nobody wanted to suspend and rebuild these programs from scratch. Recruitment is hard enough."
Drew recently received the green light to recruit additional classroom grandparents as Wichita-area public school districts are making plans to allow them back in the buildings this fall.
Now recruiting classroom Foster Grandparents
Catholic Charities is hosting informational sessions about its classroom Foster Grandparent Program on July 8 and July 15 at the St. Joseph Pastoral Center. There will be four meetings each day, at 10 a.m., 11 a.m., 3 p.m. and 4 p.m.
The program is open to income-eligible seniors ages 55 and older who would like to help children achieve success in school. Seniors must have an income below 200 percent of the federal poverty level to earn the tax-free stipend of $3 an hour.
What is a classroom Foster Grandparent?
Foster Grandparents spend 15-40 hours a week at local schools and daycares, helping children develop the social and academic skills necessary for success in school. They tutor and mentor children both one-on-one and in small groups.
Informational Sessions:
Interested people are required to attend one of the informational sessions. Please call 316-264-8344, ext. 1211 to reserve your spot.
July 8 or 15
10 a.m. • 11 a.m. • 3 p.m. • 4 p.m.
Starting June 1, drive-thru closing
As of June 1, the pantry will close its drive-thru and clients will enter the pantry to select for themselves the food items that they want for their families. June 1 also marks a full return to all pre-COVID guidelines, including showing identification and visiting the pantry just one a month. Joe says many of these guidelines were loosened during the pandemic in order to efficiently help as many families as possible who came to the drive-thru.
In order to manage the number of people in the pantry at one time, clients will need to make an appointment to visit the pantry by calling (316) 262-8898. An appointment system allows the pantry to serve about 30 clients during a one-hour time block, helping manage the flow of people in both the check-in area and in the pantry itself. Those who come to the pantry without an appointment will wait while those with appointments shop in the pantry.
The pantry has been reset to accommodate people coming back into the building. A "one-way" layout has been put into place to help with social distancing. Volunteers will sanitize carts and social distancing will be practiced.
Beginning June 1, Our Daily Bread will again require:
A fully completed application must be on file with the pantry.
Head of household member must supply proof of identity for all persons listed on file.
Head of household member must supply proof of address within the past 60 days.
A completed proxy form to pick up for another household.
Appointments for every day the pantry is open, including TEFAP food distribution days on the first and third Tuesdays of the month.
Contact Us
We would like to hear from you! Call 316-264-8344 or Email us:
Counseling And Immigration
Disabled Adults And Seniors St. Joseph Pastoral Center
437 North Topeka st.
Wichita. KS 67202-2431
Catholic Charities, Diocese of Wichita is a 501(c)(3). All gifts are tax-deductible.
Wichita Diocese
The Wichita Diocese covers 20,021 square miles and includes 25 counties in the southeast corner of the state. It is home to over 114,000 Catholics in 90 parishes.