Gaining a deeper appreciation of how other ministries serve our community and the efforts it takes to operate a ministry other than their own are the takeaways for seven Adult Day Services team members who have been assigned to other ministries since returning from furlough in late April.
Mary Cassity and Corriene Heath have been working at Harbor House Domestic Violence Shelter, while Debra Beckner, Robert Camp, Hannah Gremillion, Linda Holzman and Tristan Wilson have been at Our Daily Bread Food Pantry.
Learning about Harbor House:
"We have liked every part of our time here at Harbor House, but especially liked (setting-up) the boutique because it made us happy to see the clients' faces light up," agree Cassity and Heath. One of their assignments was to inventory a large donation of clothing and jewelry from The LBD, Etc., and organize the items into a store where clients could "shop."
They have also helped to organize the shelter's basement and storage area, sorted and put away donations, and spent some time getting their hands dirty tending to the Serenity Garden.
"This has been such a great experience," Heath said. "It has been amazing to see the other opportunities available to clients throughout our ministries. I feel really good about spending my time at Harbor House."
For Cassity, the work has helped her feel needed at a time when the workload at her own ministry slowed due to COVID-19.
"I have loved learning about the generous people that work here; I feel very comfortable and at ease at Harbor House," she said. "I feel useful and appreciated. It has been nice seeing what other ministries are doing for the community and how much it helps people. I feel accepted and needed, which is very important to me."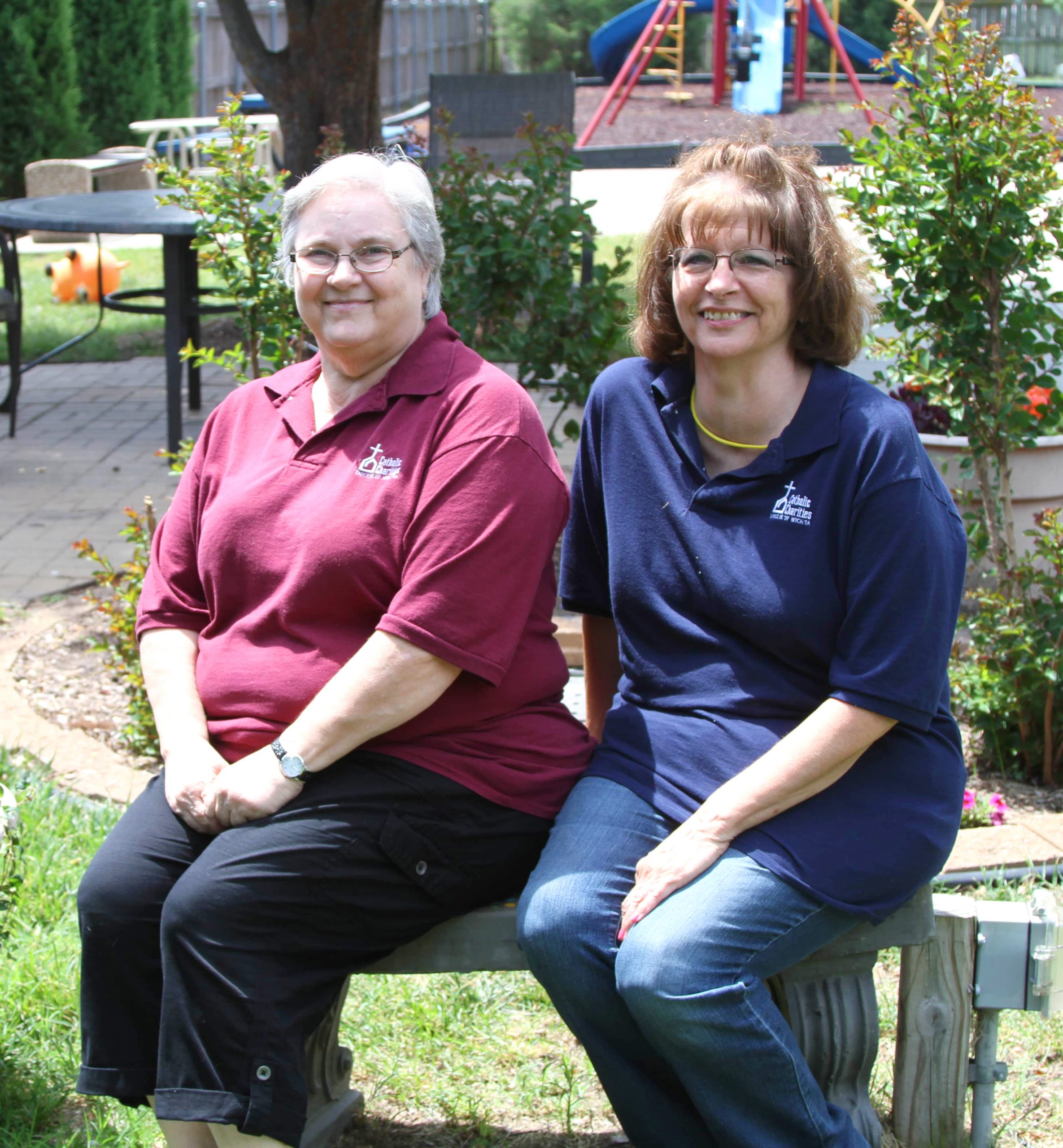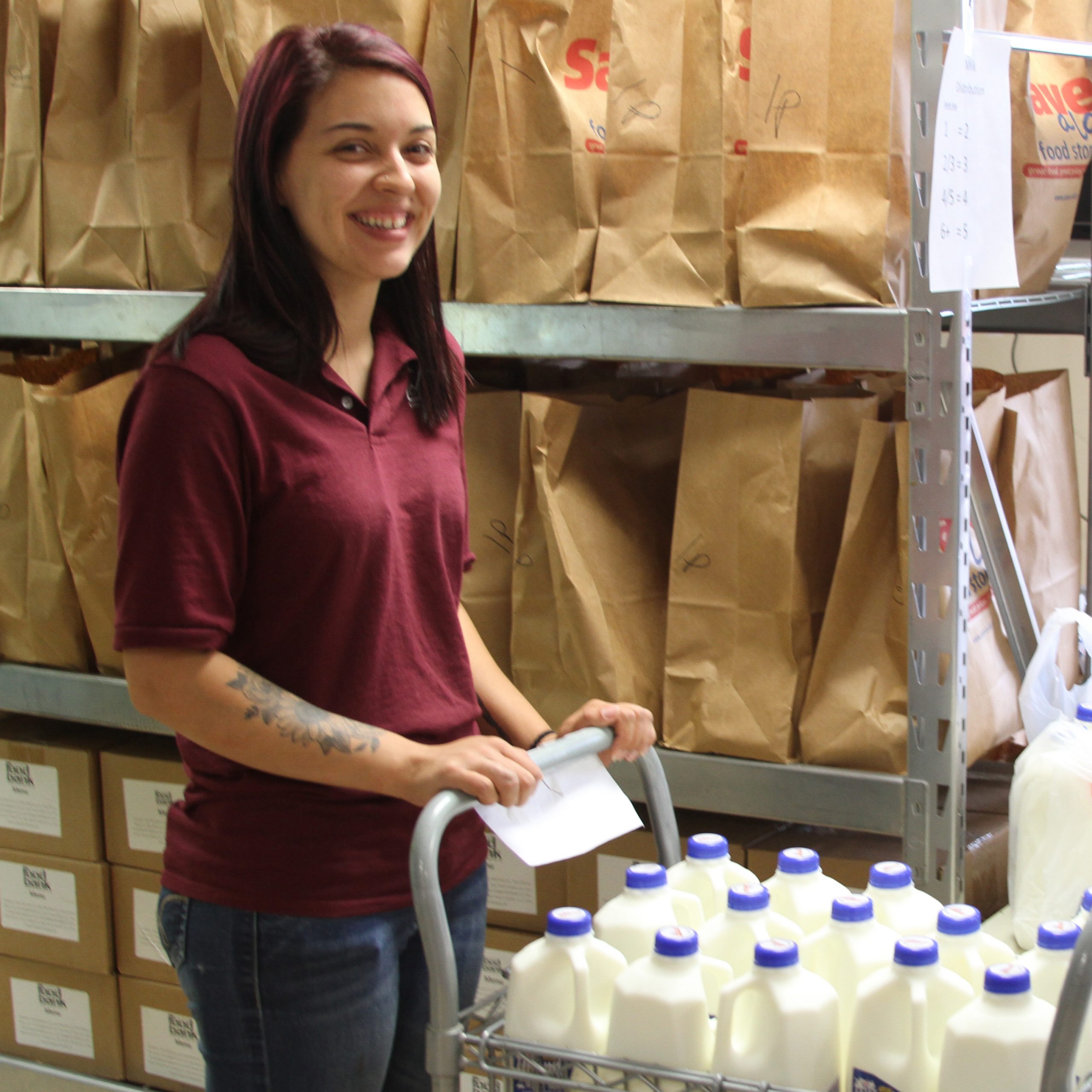 Keeping the food flowing through Our Daily Bread:
Unloading pallets of food, restocking shelves and reorganizing the pantry, packing bags and boxes with food, helping with distribution and learning how to use a standing forklift are ways that five staff from ADS have spent their time at ODB.
"We have seen just how much food is donated and distributed to clients on a daily basis," Wilson said, while Gremillion added, "and we see just how much they rely on volunteers and donations; and how much traffic they actually get through their small pantry."
The added hands have been helpful at a time when coronavirus has kept some volunteers away while being the reason for hundreds of more families to come to the pantry for food.
"It is a really great feeling being of service to other people, listening to their stories and knowing you are able to help them, and giving them a kind word in hopes of helping their day go better," Beckner said.
"It has meant a lot to see how another branch of Catholic Charities operates and how many families it helps in time of need," added Holzman.
Camp agreed, adding "it's extremely valuable to learn more about what we do as an agency. It has been very eye-opening on what is happening outside of ADS. I would love to work with anyone at any location as needed."
While time at Our Daily Bread and Harbor House has been time well spent, all seven of the ADS team members agree: they can't wait to get back to ADS to see the program participants as they return.
"I miss our clients!!!" Camp said. "I miss trying to make others laugh. I could name a couple of clients I miss interacting with, but I don't want to play favorites. I miss looking for everyone!"
Contact Us
We would like to hear from you! Call 316-264-8344 or Email us:
Counseling And Immigration
Disabled Adults And Seniors St. Joseph Pastoral Center
437 North Topeka st.
Wichita. KS 67202-2431
Catholic Charities, Diocese of Wichita is a 501(c)(3). All gifts are tax-deductible.
Wichita Diocese
The Wichita Diocese covers 20,021 square miles and includes 25 counties in the southeast corner of the state. It is home to over 114,000 Catholics in 90 parishes.