ADS – Frequently Asked Questions
Frequently Asked Questions
Why are you expanding into a new home?
Demand for these services offered by Adult Day Services has increased and will continue to grow in the years to come. The primary building on W. Central Avenue reached capacity about four years ago, at which time we opened a satellite site nearby. We are making the best of serving program participants at two locations but could run the ministry more efficiently and effectively, and serve more people, at a single larger location. 
Why are you moving and why did you choose that location?
We have purchased the former Wichita School District Michener Elementary school, located at 2235 W. 37th Street North, which is nestled alongside a quiet neighborhood. This new campus will offer space to enable us to essentially double the population we serve.
It also will allow us to expand our quality of care with an outdoor recreation area, additional accessible restrooms and changing areas, improved nursing facilities, a covered drop-off area, and a large dining room and community space that will allow all program participants to gather for communal meals and activities.
When will the project be completed?
Our plan is to have this new campus ready for our program participants in 2021.
How will Catholic Charities of Wichita pay for this project?
A project of this magnitude requires a major fundraising effort and we have been conducting a capital campaign since the summer of 2019. Generous lead donors and foundations have the campaign well on its way to meeting our $5.2 million goal.
One of those foundations is the Tulsa-based J.E. and L.E. Mabee Foundation which has pledged $750,000 to our capital campaign, with the stipulation that their dollars must be matched by new donors who give or pledge by March 31, 2020. In addition, one generous individual donor has pledged $850,000 as a capstone gift to push us over the top when we get close to our goal.
Why should I consider a pledge gift to Catholic Charities to help bring this project to fruition?
Our Adult Day Services ministry strives to provide an improved quality of life for those we serve in our community. Your compassion and generosity will help in countless ways in this endeavor, for our current families and for families well into the future.
The Mabee grant is a motivational challenge you can help us meet. Your gift will have double the impact, thanks to the Mabee Foundation.
Why is Catholic Charities seeking an additional $75,000 for the campaign now?
Our original plan called for the completion of the accessible outdoor recreation space to occur in a later phase of construction, after the campus opened in 2021. With the Mabee challenge grant available to us, we have the opportunity to secure funds now, allowing us to fully complete the outdoor recreation space for our 2021 opening.
How is the Adult Day Services program funded?
Most clients pay a reasonable daily fee that covers the costs of the services provided. The fees are paid by the family, through insurance or through grants if financial need is demonstrated.
Does Bishop Kemme support the relocation and expansion of the Adult Day Services ministry?
Yes, Bishop Kemme and the Diocese of Wichita are in full support of this relocation and renovation. And Bishop Kemme is serving as the honorary chair of the campaign.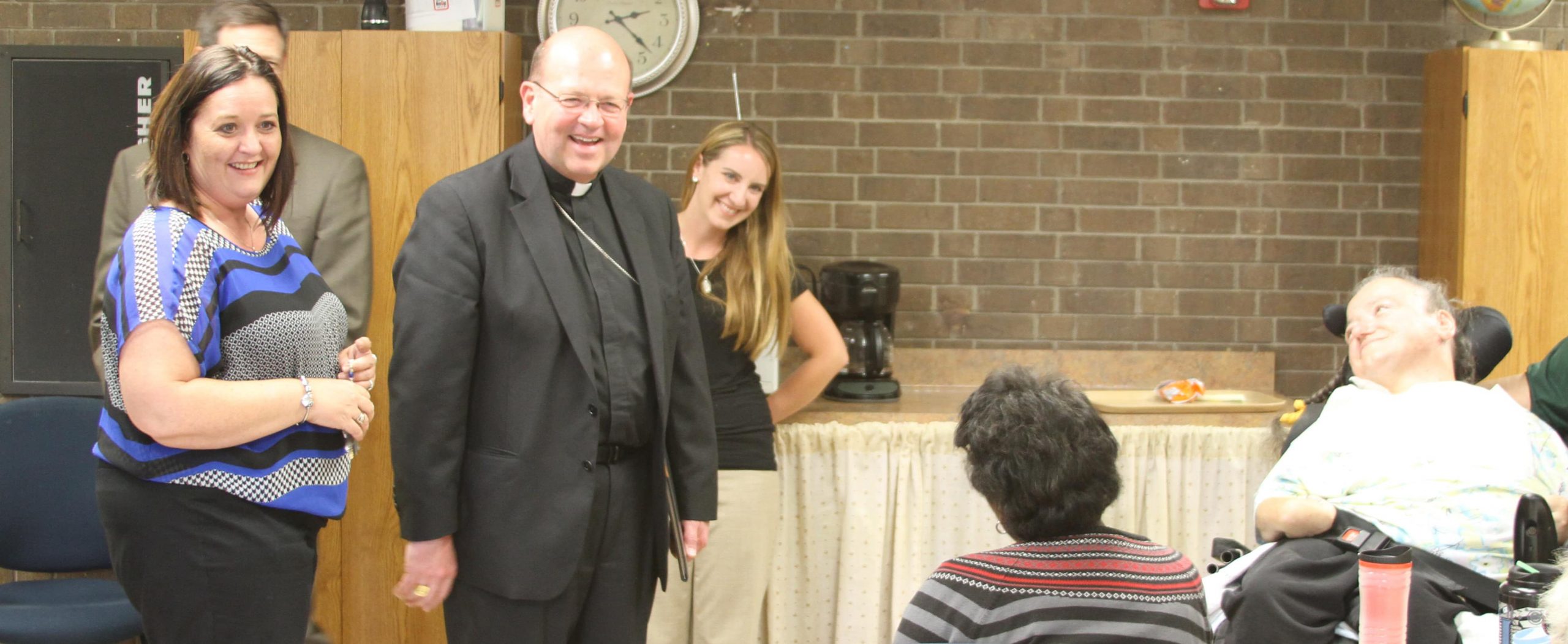 Contact Us
We would like to hear from you! Call 316-264-8344 or Email us: St. Joseph Pastoral Center
437 North Topeka st.
Wichita. KS 67202-2431
Catholic Charities, Diocese of Wichita is a 501(c)(3). All gifts are tax-deductible.
Wichita Diocese
The Wichita Diocese covers 20,021 square miles and includes 25 counties in the southeast corner of the state. It is home to over 114,000 Catholics in 90 parishes.