After 56 years of keeping up with her immigration paperwork and with the encouragement of her Catholic Charities case worker, Gabriele Rogan decided it was time to become a United States citizen.
Once that decision was made, the process involved many sessions with Carmen Velazquez of Immigration Services at Catholic Charities, and a transportation plan executed with military precision and the help of a Knight.
Gabriele's story from Germany to United States
Gabriele was born in Germany; her mother was German and her father was an American military service member stationed there. Sadly, her biological father did not stay in her life for long. It was her "fantastic" stepfather, who also was a U.S. service man, who brought Gabriele and her mother to the United States when she was 12 years old.
The family first settled in Detroit, leaving Michigan when they were transferred to Fort Riley. When her stepfather was deployed to Vietnam, she and her mother returned to Detroit. When he came home from Vietnam, his future tours bounced the family back and forth between Fort Riley and Germany.
Gabriele started her own family at the young age of 18, having a son and daughter with her own soldier. The family settled in Texas, and she began a life-long career as a cook.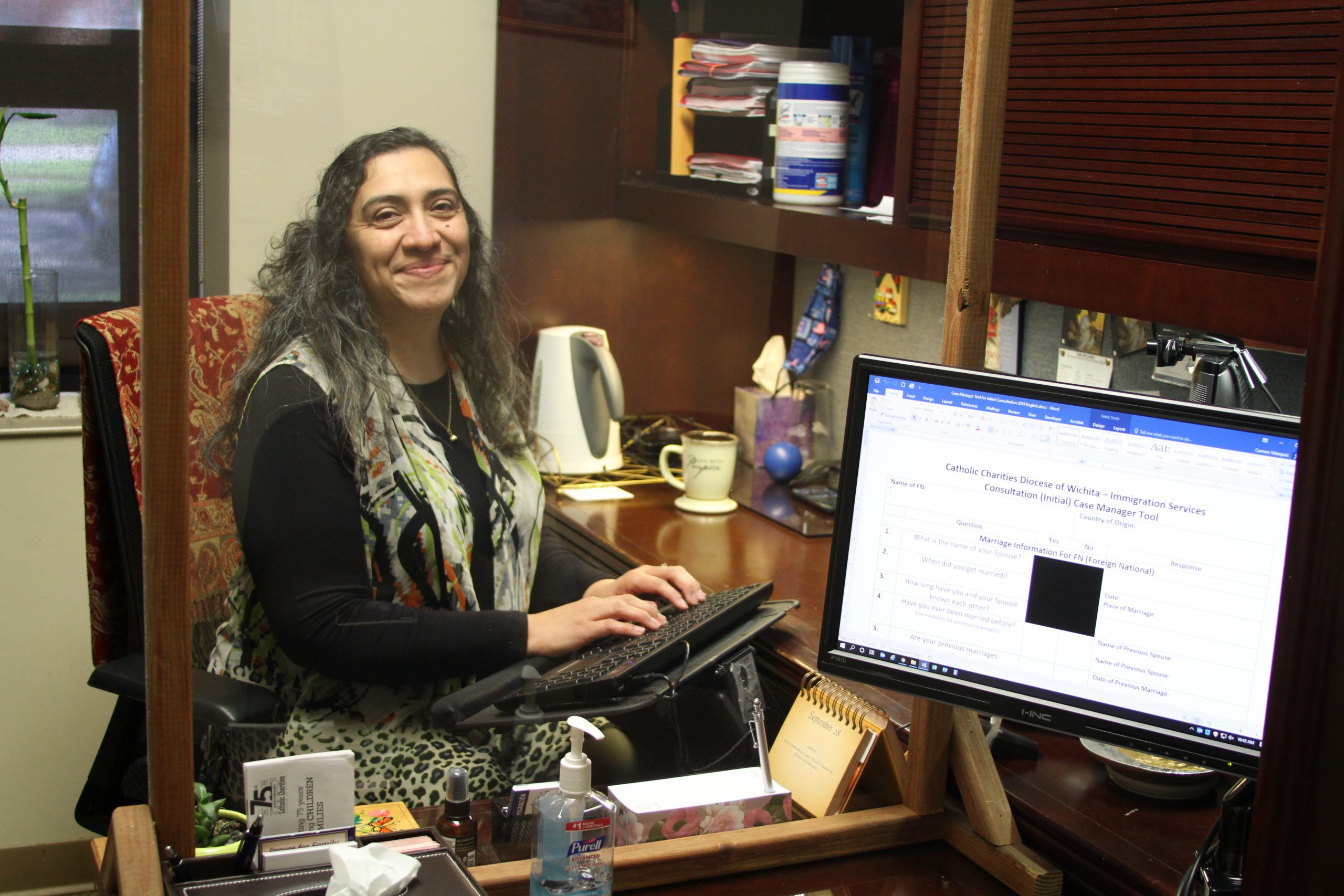 Carmen Velazquez of Immigration Services at Catholic Charities
Immigration Services Hours
Monday – Friday
8 a.m. – Noon
1 p.m. – 5 p.m.
2nd and 3rd Saturdays each month
8 a.m. – Noon
For appointments, call 316-264-0282. Se habla español e inglés.
Applying for U.S. Citizenship
In 2001, her son moved from Texas to Salina. Her daughter soon followed, then Gabriele's mother joined her grandchildren in Salina. Left all alone in Texas, Gabriele said she did not have much of a choice: if she wanted to see her family, she needed to relocate to Salina, too. So she did.
When she reached out to Immigration Services at Catholic Charities to assist with renewing her green card, Carmen suggested that Gabrielle could eliminate the need for future green cards by applying for U.S. citizenship.
"Carmen was wonderful, and was very helpful," Gabriele says of the process that took a couple of years. "I answered more questions on the test than I thought I would."
Volunteer, Pat Winter, steps up
With the day of her swearing in ceremony fast approaching, a transportation issue arose. No one in Gabriele's family was available to drive her from Salina to Wichita. Carmen jumped into action and sought help from the Catholic Charities volunteer coordinator, Tiffany Oltjenbruns.
A few members of the Knights of Columbus had recently formed a pool of volunteer drivers to help with ongoing transportation needs of veterans served through Supportive Services for Veteran Families at Catholic Charities. Tiffany contacted Pat Winter to see if he would be willing to help get Gabriele to Wichita. His answer was "yes."
Before dawn on March 24, Pat stopped at one of Catholic Charities' shelters to pick up an agency vehicle, drove to Salina to pick up Gabriele, and had her at WSU's Hughes Metroplex as the doors opened at 9 a.m. for the future citizens to check in.
"We had a nice ride; good conversation," Gabriele says. "He was very likeable; I enjoyed riding with him." Before the ceremony, Gabriele shares "I have butterflies in my stomach. I haven't had those in a long time."
After joining Gabriele for the ceremony, Carmen drove the newest U.S. citizen back to her home in Salina.
Learn more about Immigration Services and the services offered.
Contact Us
We would like to hear from you! Call 316-264-8344 or Email us:
Counseling And Immigration
Disabled Adults And Seniors St. Joseph Pastoral Center
437 North Topeka st.
Wichita. KS 67202-2431
Catholic Charities, Diocese of Wichita is a 501(c)(3). All gifts are tax-deductible.
Wichita Diocese
The Wichita Diocese covers 20,021 square miles and includes 25 counties in the southeast corner of the state. It is home to over 114,000 Catholics in 90 parishes.