Homelessness had become a way of life for Julie. Mental health issues, substance use and domestic abuse made her road to permanent housing a tougher one to travel. Many factors of her situation made it impossible for her to access mainstream housing through local partners or to qualify for some grant-funded programs.
Referred to Southeast Kansas Services
When she was referred to Catholic Charities, Casey accepted her into the Southeast Kansas Services program, and utilized funds Catholic Charities had received from the Knights of Columbus Endowed Fund at the Community Foundation of Southeast Kansas.
Finding permanent housing
Working with a local partner, Casey was able to place Julie in an assisted living apartment where she could access full-time staff and nearby resources. Catholic Charities provided funds for the deposit and monthly rent until Medicaid and Medicare benefits began to make sure the housing intervention was truly permanent.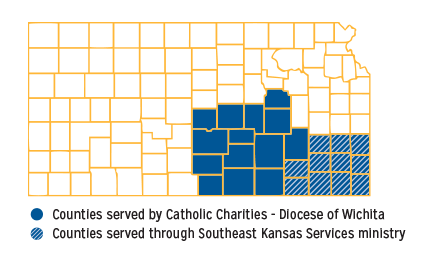 Learn more about Southeast Kansas Services
Learn how Casey and his team in Southeast Kansas serve the needs of the homeless and abused in an 11-county area from its offices in downtown Pittsburg.
Contact Us
We would like to hear from you! Call 316-264-8344 or Email us:
Counseling And Immigration
Disabled Adults And Seniors St. Joseph Pastoral Center
437 North Topeka st.
Wichita. KS 67202-2431
Catholic Charities, Diocese of Wichita is a 501(c)(3). All gifts are tax-deductible.
Wichita Diocese
The Wichita Diocese covers 20,021 square miles and includes 25 counties in the southeast corner of the state. It is home to over 114,000 Catholics in 90 parishes.