The Catholic Charities ministries at work in southeast Kansas will be able to assist more homeless veterans, survivors of domestic violence and keep families in their homes in Crawford County thanks to a new grant. Southeast Kansas Services at Catholic Charities is among the inaugural recipients of funding from the Knights of Columbus Endowed Fund at the Community Foundation of Southeast Kansas.
Casey Brown, Southeast Kansas Services program director, says the $15,000 grant will help clients of all three of the Catholic Charities ministries serving in southeast Kansas by providing client assistance funds in conjunction with other grant funding.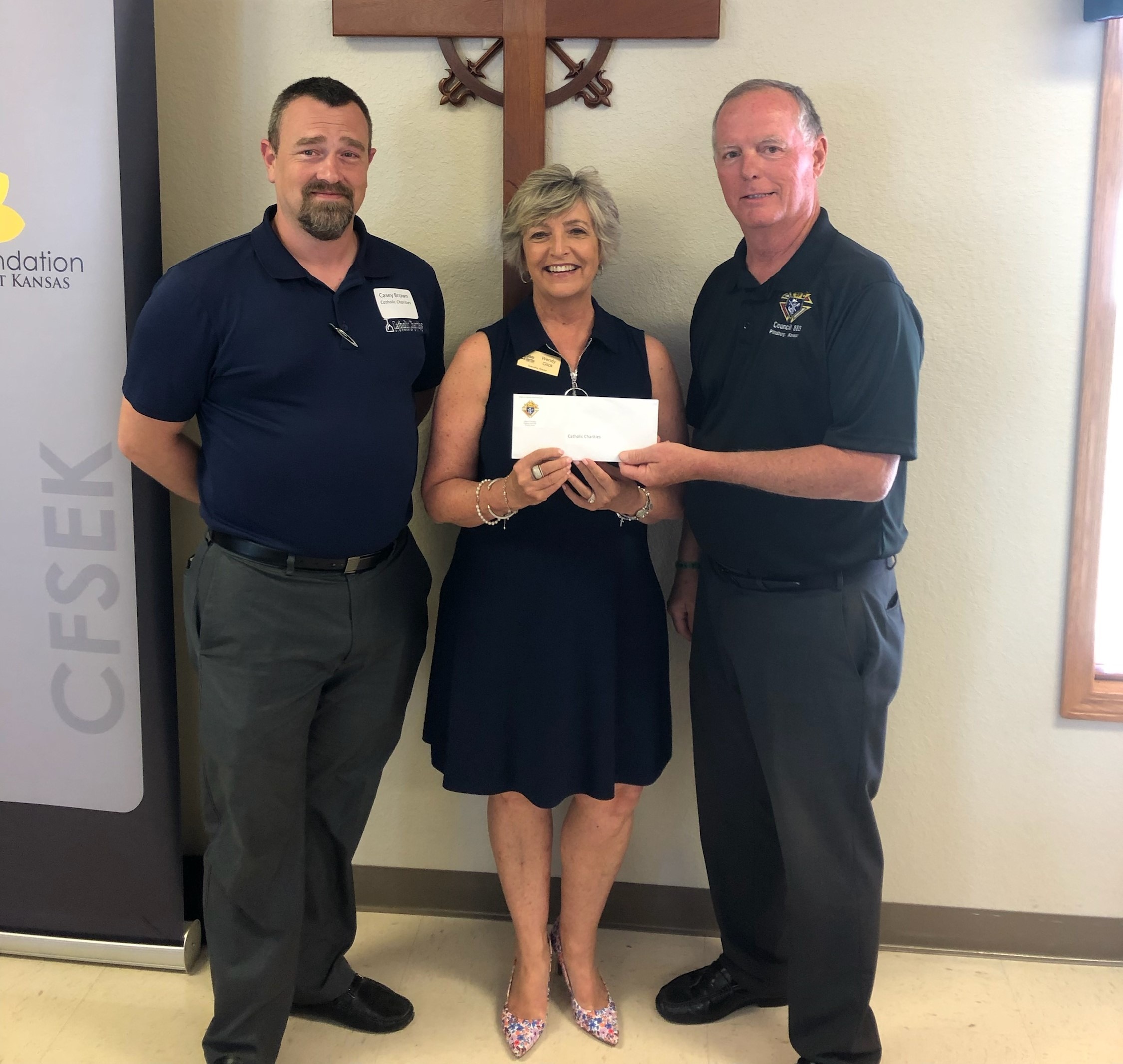 Providing permanent housing solutions
"The Housing and Supportive Services Project will be leveraged with other grants to provide permanent housing supportive solution services such as rental application fees, rental payments, utility payments, household supplies for cleaning and food as necessary," Casey says. "The funds from the Knights of Columbus Endowed Fund will help survivors of domestic violence through SAFE Project, homeless veterans through Supportive Services for Veteran Families, and other families and individuals facing a homeless situation and working with Southeast Kansas Services."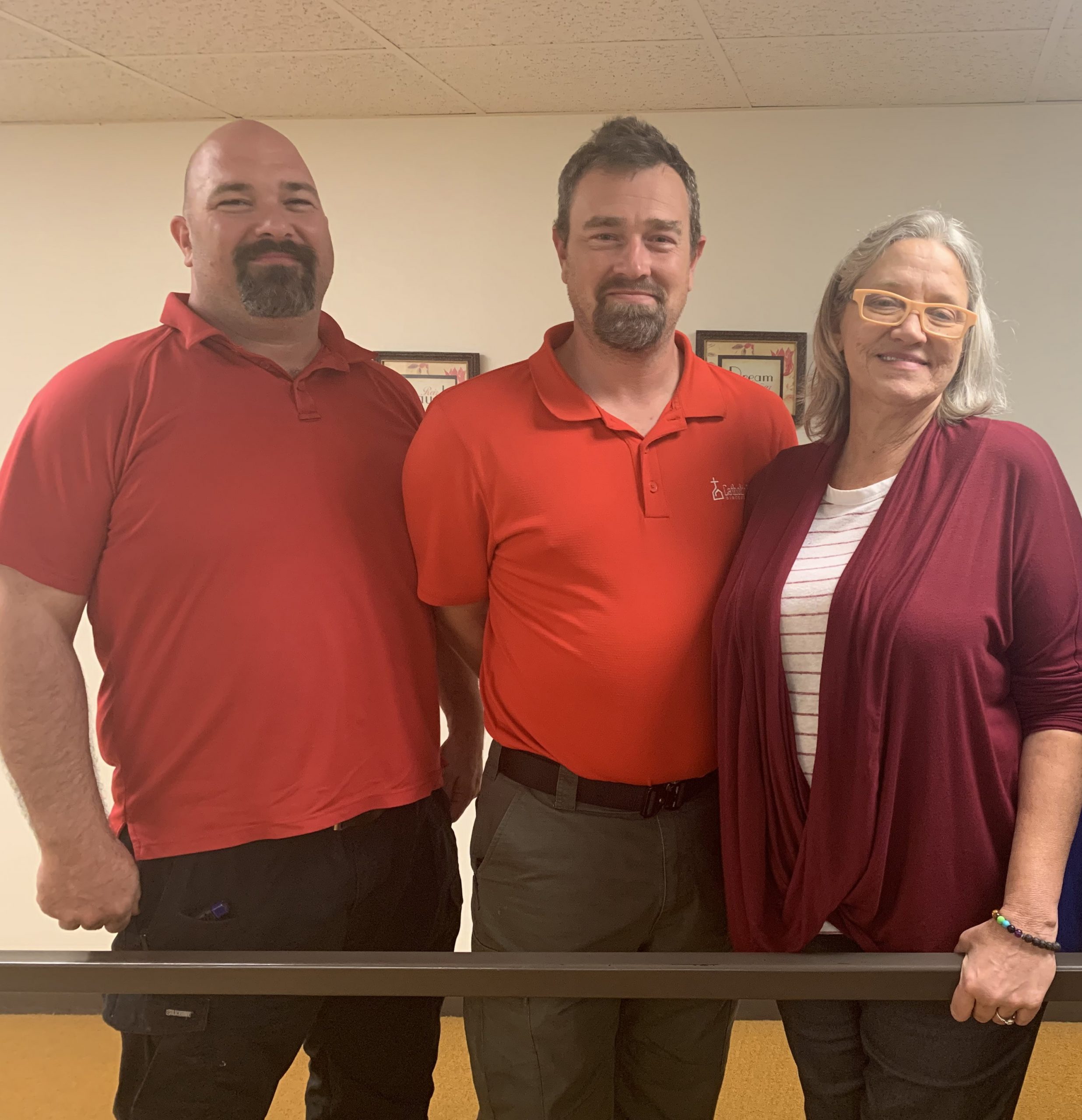 Services provided through Southeast Kansas Services based in Pittburg.
The Pittsburg-based Catholic Charities staff does more than just identify housing options for clients, Casey says. Clients also receive case management, resource navigation for mainstream benefits, financial literacy education, referrals for health services, and assistance with temporary financial assistance for rent and utility payments.
"The ultimate goal is for each client to create a plan that allows them to attain and maintain permanent housing stability," he says, adding that there is a great need in southeast Kansas to help prevent homelessness.
"In the past year, there were 353 households that were facing a homeless situation where they were living on the streets, a place not meant for human habitation or in an emergency shelter," Casey explains. "Of those, only 226 households were able to access the necessary services to attain permanent housing."
Additionally, he says, of the 574 households facing housing instability and needing some form of assistance, Catholic Charities was only able to help 230 of them with the support necessary to avoid eviction and maintain utilities.
"Moving forward, the grant from the Knights of Columbus Endowed Fund gives us dedicated funds for Crawford County, allowing us to spread other grant funding throughout our 11-county service area."
The three Catholic Charities' ministries offer services in an area of southeast Kansas comprised of Allen, Bourbon, Chautauqua, Cherokee, Crawford, Elk, Labette, Montgomery, Neosho, Wilson and Woodson counties.
Community Foundation of Southeast Kansas and the Knights of Columbus Endowment Fund
Pittsburg's Broadway Tower Corporation established the Knights of Columbus Endowment Fund with the Community Foundation of Southeast Kansas in 2021 using proceeds from the sale of the Knights of Columbus Tower. The fund continues the Tower's mission through grants addressing Crawford County housing needs. During its 40-year history, the Tower provided affordable housing for hundreds of low-income elderly residents.
The Community Foundation of Southeast Kansas hosts individual charitable funds created by donors who have a passion for giving back to their community. Grants from these funds assist people throughout southeast Kansas and beyond. Call the Foundation, (620) 231-8897 with questions about the Community Foundation.
Learn more about Southeast Kansas Services
Contact Us
We would like to hear from you! Call 316-264-8344 or Email us:
Counseling And Immigration
Disabled Adults And Seniors St. Joseph Pastoral Center
437 North Topeka st.
Wichita. KS 67202-2431
Catholic Charities, Diocese of Wichita is a 501(c)(3). All gifts are tax-deductible.
Wichita Diocese
The Wichita Diocese covers 20,021 square miles and includes 25 counties in the southeast corner of the state. It is home to over 114,000 Catholics in 90 parishes.