Harbor House volunteer shares why she gives her time
A common tie between the successes of all Catholic Charities ministries lies in the efforts of volunteers. At Harbor House, these individuals work with the staff to help provide a safe and supportive place for survivors of domestic violence. Volunteers who answer the hotline take part in a 40-hour training program to prepare them to take crisis calls and help with the needs of clients.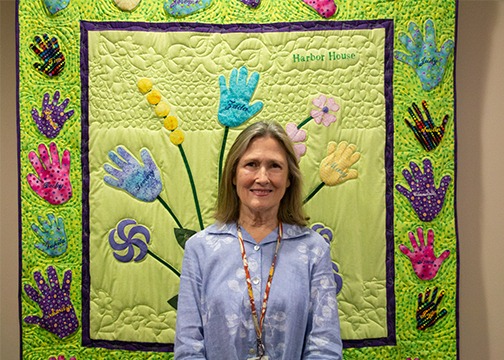 One familiar face to Harbor House staff and clients is Jane Schwartz, a weekly volunteer. For the past 12 years, Jane has been giving of her time at Harbor House, helping out wherever there is a need. Whether she's answering crisis calls, taking residents to appointments or picking up donations, Jane can be found at Harbor House for two and one-half hours every week.
"The staff there deal with a lot of emotional and physical pain, but are always supportive of clients and each other," Jane says. "They never give up; if I can do any little thing to make their day go a bit easier, I am so happy to do so."
Although Harbor House shelters those who are experiencing some of the darker moments of their lives, love and warmth abound within the walls of the shelter. Some of Jane's memories from volunteering include hearing laughter through a door as a staff member is in a meeting with a survivor, and seeing sticky ice cream smiles on children's faces on hot August afternoons.
Stories of clients' journeys of perseverance to prosperity are many, and Jane reflects on a memory of one particular client with whom she made a connection.
"I helped a woman complete her paperwork upon entry. She was beautiful, but with the haunted, sad and dazed look that is familiar with domestic violence," Jane recalls. "She was quiet, which was surprising because she had six children with her, and they were a lively bunch!"
Jane says that her connection with the woman made her quietly check on her each time she volunteered, and that it always made her day to see the woman following through with her goals.
When the woman was able to leave Harbor House, Jane's church helped deliver furniture and household goods to her. Jane says that it was "gratifying" to see the process from beginning to end – to see the client make a new start and to finally see some smiles on her face.
"There were seven lives positively affected by Catholic Charities Harbor House that day!" Jane says. "This is what keeps you coming back. You have the chance to be part of Catholic Charities' commitment to building strong families. I can't think of anything more important."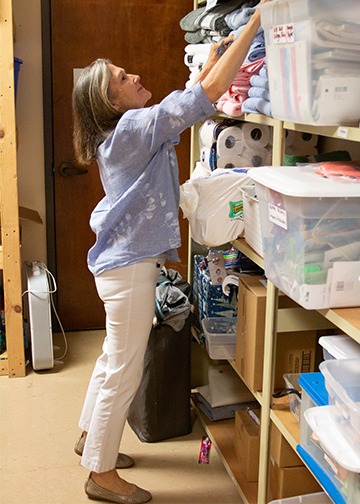 Learn more about our current volunteer opportunities by visiting our opportunities page or call our volunteer coordinator at 316-264-8344 ext. 1261.
Contact Us
We would like to hear from you! Call 316-264-8344 or Email us:
Counseling And Immigration
Disabled Adults And Seniors St. Joseph Pastoral Center
437 North Topeka st.
Wichita. KS 67202-2431
Catholic Charities, Diocese of Wichita is a 501(c)(3). All gifts are tax-deductible.
Wichita Diocese
The Wichita Diocese covers 20,021 square miles and includes 25 counties in the southeast corner of the state. It is home to over 114,000 Catholics in 90 parishes.