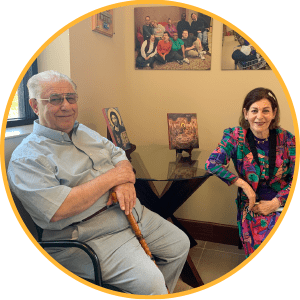 For Sedi Babaei, the dream of coming to America was planted as a teen and blossomed into reality a lifetime later. As a teenager in Iran, her American-born teachers taught her to be proficient in English, launching her dream of immigrating. After she and her husband, Shahrokh Amirsamimi, raised their three children and retired from their careers in Iran, they began to pursue their joint dream of coming to America. Sedi's brother was living in Virginia and agreed to be their sponsor.
Calling Wichita Home
After visiting several cities throughout the country, they choose to call Wichita home. Part of the reason they choose Wichita was because Sedi's godson, who has low vision, lived in the community to be part of the Envision organization.
Fourteen years later, and with the help of Carmen Velazquez, an Immigration Services case manager who guided them through the processes for green cards and citizenship, the couple is proud to call themselves Americans.
"We love the U.S.," Sedi says. "It's like paradise to us."
Immigration Services at Catholic Charities
Catholic Charities Immigration Services has grown from providing refugee services in the 1960s to helping low-income people navigate today's immigration laws.
David Osio, program director, and his small team assisted more than 500 clients in the past year, welcoming new clients as well as managing active cases at various stages of the process. During the COVID-19 pandemic, Immigration Services as been able to expand its reach by meeting virtually with clients, making services more accessible to people living outside of the greater Wichita metro area.
Those services include assistance with naturalization and citizenship, family immigration, adjustments of status, removal of conditions, and Deferred Action for Childhood Arrivals (DACA) and green card renewals.
Clients pay fees for these services, with an initial consultation fee of $55. Fees for the most popular services like naturalization, DACAs and green card renewals can cost $210-$310, while the cost of more complicated services can cost as much as $1,500.
Immigration Services has been accredited by the Board of Immigration appeals since 1989 and the Department of Justice since 2018. It also is affiliated with the Catholic Legal Immigration Network, Inc. (CLINIC), allowing staff to provide all the services that an immigration attorney would provide. Services are provided in English and Spanish; other languages require an interpreter.
Contact Us
We would like to hear from you! Call 316-264-8344 or Email us:
Counseling And Immigration
Disabled Adults And Seniors St. Joseph Pastoral Center
437 North Topeka st.
Wichita. KS 67202-2431
Catholic Charities, Diocese of Wichita is a 501(c)(3). All gifts are tax-deductible.
Wichita Diocese
The Wichita Diocese covers 20,021 square miles and includes 25 counties in the southeast corner of the state. It is home to over 114,000 Catholics in 90 parishes.