Our Daily Bread Food Pantry has been one of Catholic Charities busiest ministries since mid-March, and Joe Seitz, program director, expects the pace to continue for the foreseeable future. The drive-thru pantry at 2825 S. Hillside operates with a predominately volunteer crew, and Seitz said he has immediate openings for new volunteers so those who have been working diligently since mid-March can take a well-deserved break.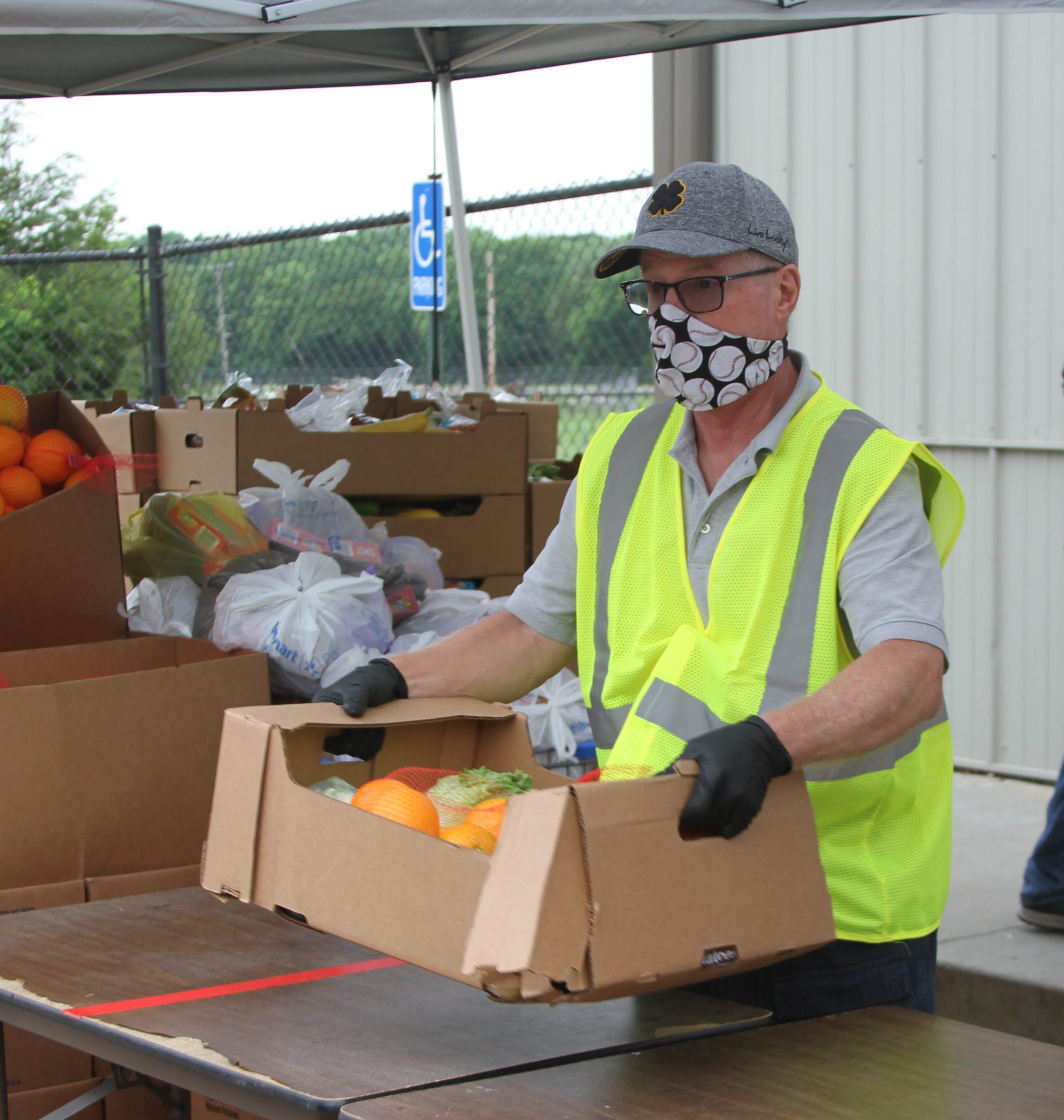 "Volunteers are the life blood of the pantry and we couldn't operate without them," Seitz said. "The crew that we've had since the pandemic started has been tremendous. They helped convert the pantry to a drive-thru model and have been showing up every day to make sure we run efficiently and the folks coming to us get the food that they need to feed their families."
Many of the volunteers, along with Catholic Charities administrative staff and others from Volunteer Kansas, also helped run two special food distribution dates – called Fruitful Fridays – at Towne East Square in late June. In all, Seitz said Catholic Charities provided food to more than 3,700 families and 13,300 people during the month of June.
Volunteers are needed for food distribution when the pantry is open from 8:30 a.m. to noon on Tuesdays, Wednesdays and Thursdays, and from 9 a.m. to noon on the fourth Saturday of each month. These volunteers might have brief contact with the general public.
Volunteers also are needed from 1-3 p.m. on Mondays, Tuesdays, Wednesdays and Thursdays to restock the pantry and pre-package bags of food for the next distribution date. There is no interaction with the general public during the afternoon shift.
In all cases, social distancing is practiced as much as possible, masks are required and gloves are recommended. Volunteers must be 18 or older; youth ages 16 and 17 may volunteer with written parental consent while those 15 and younger must be accompanied by a parent.
Contact Us
We would like to hear from you! Call 316-264-8344 or Email us:
Counseling And Immigration
Disabled Adults And Seniors St. Joseph Pastoral Center
437 North Topeka st.
Wichita. KS 67202-2431
Catholic Charities, Diocese of Wichita is a 501(c)(3). All gifts are tax-deductible.
Wichita Diocese
The Wichita Diocese covers 20,021 square miles and includes 25 counties in the southeast corner of the state. It is home to over 114,000 Catholics in 90 parishes.