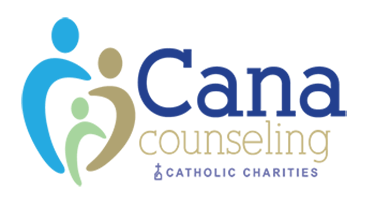 At a time when more people are dealing with the stress and anxiety created by a worldwide health crisis, Cana Counseling is open to help new and existing clients while protecting clients and staff from coronavirus.
Cana clinicians are meeting with current clients via a telehealth platform which allows for real time audio and video between a client and therapist. Cana also is welcoming new clients to be served via telehealth.
"Many people today are feeling a lack of control in their daily lives because of coronavirus, which can lead to anxiety and stress," says George Sevick, a licensed clinical marriage and family therapist and director of Cana Counseling. "While this is understandable in the world which we are living, we are encouraging people to focus on what they can control and let go of what they can't. None of us can control when a stay-at-home order or a job furlough ends, but we each can control our own daily actions."
Sevick said this also is a good time to keep up with social connections even while practicing social distancing.
"This is an important time to reach out to those we love and friends by making telephone calls, sending texts or emails, or driving by someone's house to wave to them," Sevick said. "We can still have meaningful, enriching connections with other humans even if we must keep a physical distance from them."
Since 1985, Cana Counseling has been compassionately providing outpatient psychotherapy and counseling to people of all cultures, ages, denominations and faiths. Cana strives to encourage and strengthen Christian marriages, families, children, individuals and groups so they can maintain a sense of dignity, hope and well-being in relationships and in their genuine, authentic selves.
In addition to Sevick, the Cana team includes Lisa Butler, dually licensed as a clinical marriage and family therapist and a clinical addiction counselor; Esther Brandt, a licensed marriage and family therapist; and Kevin Moore, a licensed clinical marriage and family therapist who is working part time for Cana Counseling.
Available counseling services include treating anxiety, child behavioral problems, depression, grief and loss, marital and relationship discord, attention deficit disorders, trauma and issues with sexuality.
Contact Us
We would like to hear from you! Call 316-264-8344 or Email us:
Counseling And Immigration
Disabled Adults And Seniors St. Joseph Pastoral Center
437 North Topeka st.
Wichita. KS 67202-2431
Catholic Charities, Diocese of Wichita is a 501(c)(3). All gifts are tax-deductible.
Wichita Diocese
The Wichita Diocese covers 20,021 square miles and includes 25 counties in the southeast corner of the state. It is home to over 114,000 Catholics in 90 parishes.