During a short stint in retail, retired law enforcement professional Joe Seitz realized that he missed serving the community.
"I spent almost 25 years serving and protecting the city of Wichita and I just knew I had to find my way back to being a servant," said Seitz, who is retired from the Wichita Police Department.  "Simply put, I feel called to serve people."
So Seitz began watching for job openings at area non-profits that would fulfill his passion. When he first saw the posting for program director at Catholic Charities' Our Daily Bread Food Pantry, he nearly disqualified himself before even reading the details.
"After thinking about how running a food pantry would certainly put me right back serving my community, I decided to go back and look at the job details before I just brushed it off," he said. "As I read the details, I quickly realized this was where God wants me to be."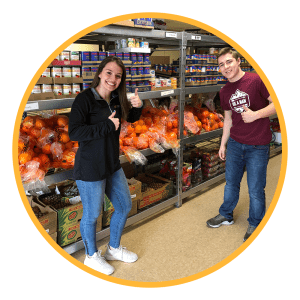 Leadership at Catholic Charities agreed and Seitz started in his new role Dec. 2. He said that he feels blessed every day to work with the pantry's clients and volunteers.
"I used to supervise paid staff, and I always tell my volunteers I could never pay someone to have the passion and work ethic these folks do," he said. "They are truly the backbone and heart of what we do at Our Daily Bread.
"It is also a privilege and a blessing to be able to serve our clients," he continued. "I like to say we offer more than food here. We offer love, dignity and respect to everyone that walks through our doors."
Our Daily Bread is an "immediate need" pantry located next to The Lord's Diner at 2825 S. Hillside, serving as many as 300 families a week. The pantry uses a "client-choice" model, meaning clients "shop" the pantry instead of receiving a pre-packed box. A volunteer guides each client through the pantry, helping them choose a specific number of items from categories such as fruits, vegetables, soups, rice/pasta, proteins, breakfast items and bread.
"The amount of need right here in our community is greater than I ever imagined. It is heartbreaking to see the challenges our clients deal with on a daily basis," Seitz said. "Food is the foundation on which all else is built."
Seitz's short-term goals for Our Daily Bread is to increase healthier food option by maximizing existing refrigeration and freezer capacity. He also will cultivate the many partnerships that keep the pantry's shelves stocked. Besides the Kansas Food Bank and local retailers, the pantry relies heavily on the generosity of donors, and local churches and organizations for cash donations and non-perishable food items.
During 24 years with the Wichita Police Department, Seitz had leadership roles with Christmas Crusade for Children, which served 1,000 underserved families each holiday season, and Camp Awareness, an initiative with the Boy Scouts to serve 150 at-risk children each summer. In addition, Seitz led the WPD's crime prevention office, giving him experience with partnership development and public speaking.
Call to Action
You can support Our Daily Bread Food Pantry by making a cash donation or organizing a collection drive. To learn more, click HERE.
Contact Us
We would like to hear from you! Call 316-264-8344 or Email us: St. Joseph Pastoral Center
437 North Topeka st.
Wichita. KS 67202-2431
Catholic Charities, Diocese of Wichita is a 501(c)(3). All gifts are tax-deductible.
Wichita Diocese
The Wichita Diocese covers 20,021 square miles and includes 25 counties in the southeast corner of the state. It is home to over 114,000 Catholics in 90 parishes.