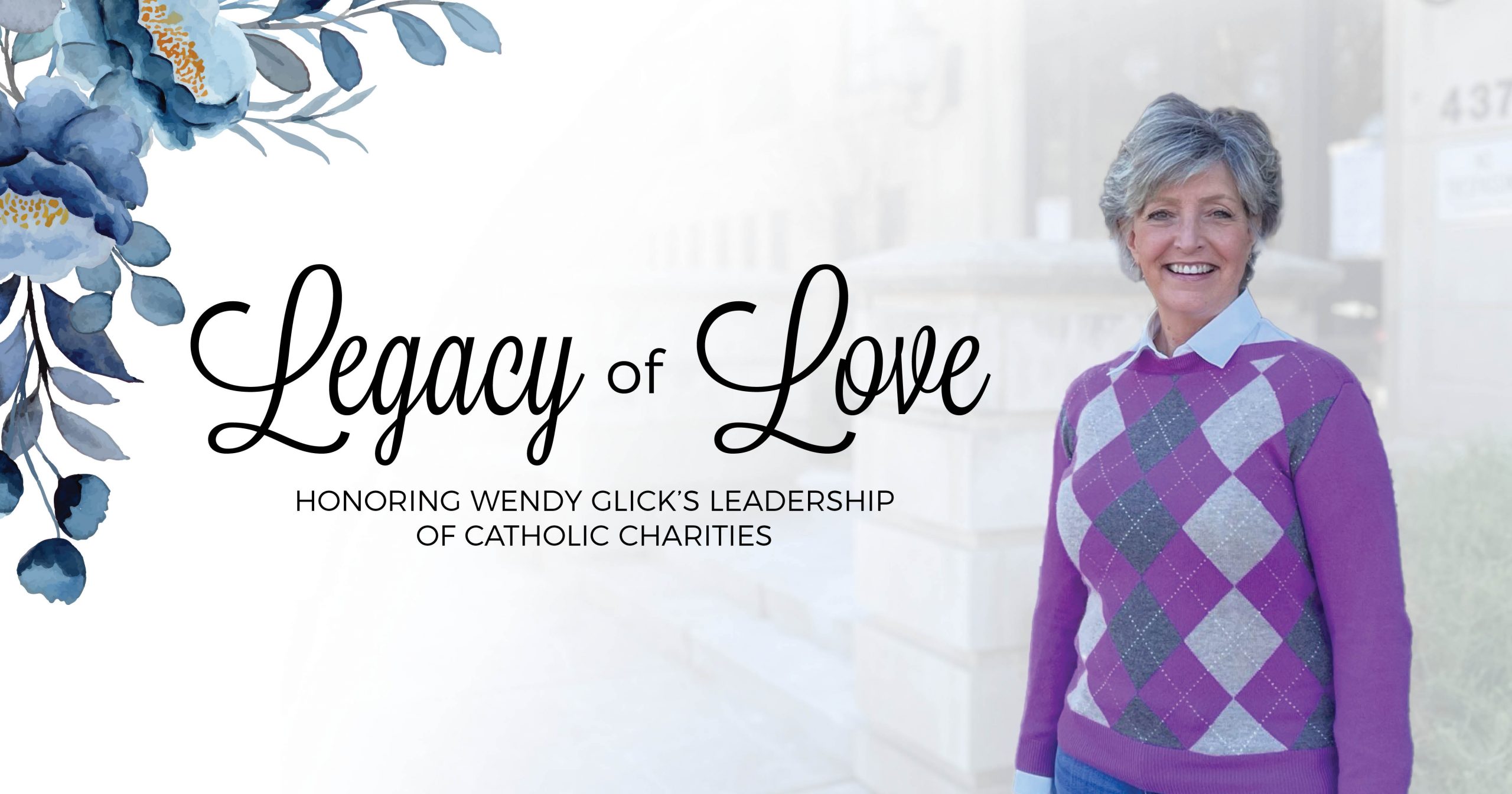 Leaving a Legacy of Love
Help us honor Wendy Glick and her 25 years of service to the Diocese of Wichita. She led with a servant's heart. We are grateful for her leadership in sharing God's love with all.
Legacy of Love at Catholic Charities.
For 25 years, the Wichita community has been truly blessed to have Wendy Glick at the forefront of our collective efforts to care for the most vulnerable among us. Through her 15 years at Catholic Charities, including the past six years as executive director, along with 10 years leading The Lord's Diner for the Diocese of Wichita, Wendy led us in sharing God's love with thousands of childen and adults.
The Legacy of Love appeal allows the community to say "thank you" to Wendy for her years of service in a way that will directly impact the people Catholic Charities will serve in the coming months.
Wendy embodies the mission of Catholic Charities to share God's love by caring for all people. She leaves a legacy of love for all of us to emulate as we continue serving the most vulnerable in our community. With your support, we can continue to lovingly serve the hungry, homeless, disabled and abused in the community.
Wendy Glick through her 25 years with the Diocese of Wichita.
The most vulnerable in our community struggling with the higher costs of food, gas, rent and utilities. Women from all walks of life suffer physical and emotional abuse at the hands of the ones they love. Families are seeking enrichment opportunities for their loved ones with special needs or their elders experiencing cognitive decline.
Your gift to the Faithful Servant Fund is needed now, more than ever. Please consider how you can help continue Wendy's Legacy of Love.
Help us meet a $100,000 match!
A few special friends of Wendy's have pooled their resources to create a $100,000 matching fund for our Legacy of Love appeal. Their intention in establishing the matching fund is to inspire others to give in Wendy's honor.
Every donation up to $100,000 will be matched dollar for dollar, doubling the impact of your gift. Your donation and the matching dollars will help us feed the hungry, shelter the homeless and abused, and enrich the lives of people at every stage of life.

Thank you to the Friends of Wendy Glick and Catholic Charities who have made this generous matching fund available.
"It is not how much you do, but how much
LOVE you put into what you do that counts."   

– St. Teresa of Calcutta
Learn more about the ministries of Catholic Charities as we enter our 80th year of serving the community.
Contact Us
We would like to hear from you! Call 316-264-8344 or Email us: St. Joseph Pastoral Center
437 North Topeka st.
Wichita. KS 67202-2431
Catholic Charities, Diocese of Wichita is a 501(c)(3). All gifts are tax-deductible.
Wichita Diocese
The Wichita Diocese covers 20,021 square miles and includes 25 counties in the southeast corner of the state. It is home to over 114,000 Catholics in 90 parishes.